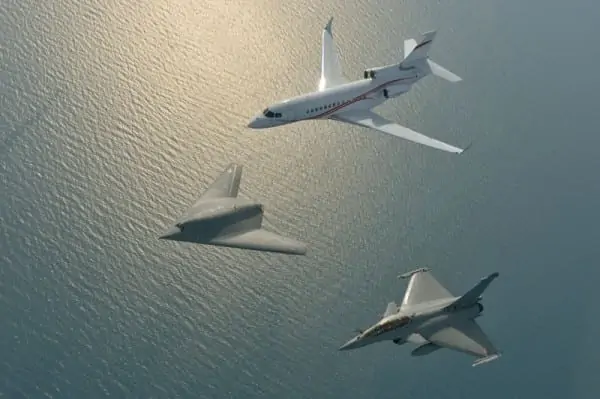 On March 20, 2014, Dassault Aviation organized a formation flight of the nEUROn unmanned combat air vehicle (UCAV) with a Rafale fighter and a Falcon 7X business jet. This was the first time in the world that a combat drone flew in formation with other aircraft. The entire operation lasted 1 hour and 50 minutes and took the patrol out over the Mediterranean to a range of several hundred kilometers.
According to Eric Trappier, Chairman and CEO of Dassault Aviation, "This achievement clearly reflects our expertise in state-of-the-art technologies. Our skills in both military and civil aviation mutually enrich each other, enabling us to design exceptional airplanes suited for both the armed forces and Falcon business jet operators."
Organizing a formation flight like this was a daunting challenge: for each maneuver in the planned sequence, aircraft from different holding points and with very different characteristics had to fly alongside each other in a confined space.
An additional challenge was being able to control a pilotless aircraft flying near four other aircraft, all manned (Rafale, Falcon 7X and two chase aircraft for photography). Engineers had to plan ahead to take into account the risk of interference, including aerodynamic turbulence between the aircraft, not to mention electromagnetic interference (EMI) with communications between the nEUROn drone and its ground control station.
Dassault has released a video of the flight – please click here to view.