Texas A&M University-Corpus Christi continued its preparations to be fully operational as one of only six federal test sites for unmanned aircraft systems (UAS) with another series of test flight missions this week over South Texas ranchland.
Researchers have been conducting missions twice a day with the University's RS-16 unmanned aerial vehicle (UAV), and another UAV owned by American Aerospace Advisors.
The UAVs pilots are on the ground controlling and monitoring it. The flights last about two hours, flying over the coastline and collecting data for university researchers that can be used for mapping sea grass, monitoring pipeline routes, detecting wildfires hotspots or oil spills in the ocean, and counting livestock.
"With each test flight, we are building on our own research data that can lead to conclusions on the best ways to safely integrate UAS into our national airspace," said Dr. David Bridges, Director of UAS Program.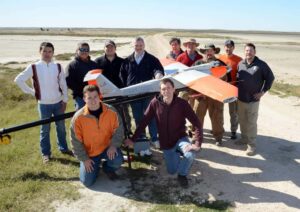 Back in the Mission Control Center in Corpus Christi, technicians with Camber Corporation, one of Texas A&M-Corpus Christi's 15 partners in this test site, worked to refine and improve capabilities to track, monitor, and receive streaming video from the UAVs and the mobile operations center at the launch site. See inside Mission Control (B-Roll and SOTS).
"All of the technology we are packing into Mission Control is up and communicating clearly with the operations at the ranch launch site," said Dr. Ron George, Senior Research Development Officer. "We'll be open for business soon."
Texas A&M-Corpus Christi's Lone Star UAS Center of Excellence and Innovation was selected by the Federal Aviation Administration (FAA) as a test site in December. See the test ranges of the Lone Star UAS Center. That designation is expected to bring other UAS researchers to the South Texas, an anticipated economic impact of $8 billion statewide, and $260 million in South Texas over the next 10 years; creating about 1,200 jobs.