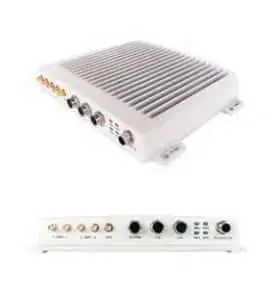 RADWIN, a global leader in sub-6 GHz wireless broadband, has announced the release of its new Vehicular Mobile Unit (VMU), part of the FiberinMotion™ portfolio. VMU is especially designed for vehicle installations, enabling high-speed video, voice and data transmission for vehicles on the move.
VMU is the latest addition to RADWIN's FiberinMotion mobility portfolio. Delivering high capacity of up to 50Mbps, the ruggedized VMU supports vehicle speeds of up to 250 Km/155 miles/h and provides long range coverage of up to 10 km/6 miles. VMU includes a built-in Wi-Fi access point, GPS for vehicle tracking and leverages on RADWIN's advanced air-interface; it incorporates Dynamic MIMO/Diversity and Smart Bandwidth Management (SBM) to assure committed service level per vehicle.
VMU powers multiple applications for a wide range of industries, including real time video transmission from unmanned ground vehicles in border security applications, and automation of mining vehicles and machinery.
Idan Bar-Sade, VP Product Management stated, "RADWIN is addressing customer requirements for mobility applications by building on the market-leading FiberinMotion portfolio. With RADWIN's VMU, companies across all industries benefit from high-resolution video, data and voice transmission on the move and can enhance security and streamline operations."