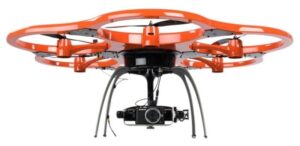 Hexagon, leading global provider of design, measurement and visualisation solutions, has acquired Aibotix, a manufacturer of intelligent multicopter systems for high-efficiency aerial applications.
Headquartered in Kassel, Germany, Aibotix is the maker of Aibot X6 (pictured), a new generation of vertical takeoff and landing unmanned aerial vehicle (UAV). Intelligent, autonomous and safe, the multi-rotor platform is designed to suit the needs of customers in the industrial inspection, aerial mapping, surveying, utility and security markets.
UAV-based solutions are ideal for delivering up-to-date geospatial information and aiding in hard to reach areas – such as difficult infrastructure inspections of power lines, bridges and dams to locally focused mapping tasks of buildings or any vertical structure. They are quickly becoming a viable tool for key market segments that require application-specific solutions; where the UAV becomes an integral part of the workflow process, delivering essential pieces of information that drive actionable intelligence.
"The Aibotix acquisition is an important addition to Hexagon's photogrammetric and mapping technologies portfolio," said Hexagon President and CEO Ola Rollén. "The growing number of applications for UAV-based solutions offers huge growth potential, especially in areas that require frequent and local updates such as smart city applications, dynamic GIS, and emergency response."