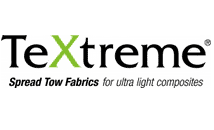 TeXtreme® will be exhibiting at the Carbon Fiber 2013 conference held in Knoxville/Oak Ridge, TN, USA, 9-12 of December.
The team will be on hand to meet during the conference and discuss all possible carbon fiber reinforcement needs.
TeXtreme® Spread Tow reinforcements is the ultimate choice for making ultra light composites. TeXtreme® Technology is flexible and tow-size independent which enables development of optimized reinforcement solutions tailor-made for specific application needs. Utilization of TeXtreme® Spread Tow carbon fabrics and carbon UD tapes by manufacturers of advanced aerospace, industrial and sports products confirms that 20-30% lighter composite parts can be produced with improved mechanical properties and superior surface smoothness.
To find out more about TeXtreme®, click here to view the Oxeon AB profile page.