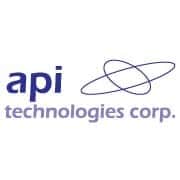 API Technologies Corp., a trusted provider of RF/microwave, microelectronics, and security solutions for critical and high-reliability applications, has announced that it has received two additional AS9100 Rev C aerospace site certifications, one for its RF/Microwave facility in Delmar, Delaware, and the other for its magnetics manufacturing operation in State College, Pennsylvania.
The AS9100 Rev C certification is based on the IAQG 9100-series standard quality management system requirements which are an internationally recognized quality management standard for the aerospace and defense industry. AS9100 certification involves a third-party verification process that includes a detailed review of the Company's quality processes and documentation.
"API's long-standing commitment to implement the highest quality systems and achieve multiple certifications is a reflection of our dedication to provide excellent customer service and innovative products for our aerospace and defense customers," said Bel Lazar, President and Chief Executive Officer, API Technologies Corp. "With the addition of the State College and Delmar facilities, API Technologies has a total of 10 sites that are AS9100 Rev C certified."
In addition to AS9100 and ISO 9001:2008 certification, State College, PA facility is also certified to MIL-PRF-49470 and MIL-STD-790. Both the State College and Delmar facilities have been successfully audited to the requirements of AS9104A.