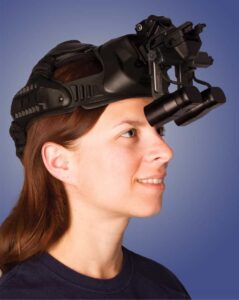 SA Photonics, a leading developer of next generation head mounted displays (HMDs) for military and commercial customers, has announced it will unveil its latest HMD, the SA-30, at the Interservice/Industry Training, Simulation and Education Conference (I/ITSEC) in Orlando, Florida on December 2nd, 2013.
Designed for maximum image quality, with a 20/19 Snellen resolution (0.94 arc-minutes per pixel), the SA-30 has the highest resolution of any commercial HMD. It has a horizontal field of view of 30 degrees and was carefully designed to minimize peripheral obscuration. Users can easily view their surrounding environment, which could include a personal computer, desktop, joysticks/controls or another user, without it being obscured by the HMD. The WUXGA (1920 x 1200 pixel) OLED microdisplays provide both high resolution and high contrast.
"We're extremely excited to be able to deliver an HMD that surpasses our customers' expectation for image quality," says Dr. Michael Browne, General Manager of Vision Products for SA Photonics. "This HMD breaks the 20/20 resolution barrier in a package that is comfortable to wear and view."
The SA-30 can benefit a range of applications, from architectural modeling to virtual prototyping and performing remote medical procedures. Its high resolution display will enable users to perform the most precise tasks without having to worry about degraded visual performance. The SA-30 can be easily used for simulation and training exercises for a multitude of military and commercial tasks. In addition, the SA-30's high resolution, stereoscopic imagery and potential for head tracking makes it a natural display for maximizing telepresence when guiding unmanned vehicles.
SA Photonics will demonstrate the SA-30 in Booth 512 at the I/ITSEC conference in Orlando, Florida (Orange County Convention Center) from December 2nd—December 5th, 2013.