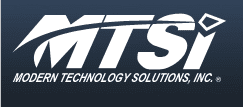 Modern Technology Solutions, Inc. (MTSI), a leading systems engineering provider in the Government Unmanned Aircraft System (UAS) domain, has announced the expansion of its world-class UAS services into the Commercial UAS marketplace. This emerging market, estimated by various sources at a potential $10 billion within three years, has been inhibited by the lack of a regulatory structure for integrating UAS into the National Airspace System (NAS) as well as the absence of established Standards for airspace-enabling UAS technologies.
MTSI's Unmanned Systems Team of more than 70 dedicated UAS professionals has been deeply entrenched for over a decade in solving the Policy, Regulatory, Technical, and Operational challenges associated with integrating UAS into the NAS. MTSI's UAS expertise spans multiple government agencies, including the Federal Aviation Administration (FAA), Department of Defense (DOD), Department of Homeland Security (DHS), National Aeronautics and Space Administration (NASA), and the Intelligence Community.
Kevin Robinson, MTSI President, commented, "MTSI is strategically positioned to leverage our combined UAS capabilities into the Commercial UAS marketplace. Over the past decade, our familiarity with all varieties of UAS platforms, collaboration on dozens of Federal agency and Industry UAS efforts, and broad UAS systems engineering, integration, test, operations and certification expertise has created a convergence of capabilities and experience which we will now apply to rapidly develop emerging commercial UAS markets (U.S. and International) with carefully selected technology and investment partners."
Industry-leading MTSI products in the UAS domain include DoD's Unmanned Systems Roadmap, DoD's UAS Airspace Integration Roadmap, and the Federal UAS Aviation Rulemaking Committee's Implementation Plan for Integration of Civil UAS in the NAS, among others. MTSI's trademarked Sense and Avoid Flight Encounter Simulation Toolset (SAFEST)® provides the capability to analyze critical UAS Sense and Avoid (SAA) issues, the linchpin of UAS NAS integration.
MTSI's UAS capabilities include:
Requirements Analysis and Concept Development
Systems Engineering and Integration
Airspace Modeling and Simulation
Operational and System Safety Analysis
Standards Development
Flight Test and Demonstrations
DoD and Civil Airworthiness Certification
Data Link and Network Information Assurance
Strategic Plans, Roadmaps, and Policy Development
In the Commercial and Civil UAS marketplace, MTSI will offer critical policy, regulatory, technical, and operational expertise to help their Commercial and Civil UAS industry partners. Services will include:
Commercial Photogrammetry for Precision Agriculture, Oil and Gas, and other industries
Requirements Analysis, CONOPS, and Acquisition Support for Public Safety and First Responders
Guidance for evolving Federal, State, and Local UAS regulations, including Privacy issues
Guidance and technical support for Small UAS Airworthiness
Guidance for customer Independent Research & Development (IR&D)
Modeling & Simulation and Operational Analysis of UAS concepts, including SAA concepts
Business Case Analysis for Commercial Operations
Small UAS Training and System Safety
Turn-Key Flight Test and Demonstrations
MTSI's in-depth understanding of the policy, regulatory, and technical aspects of the UAS industry will enable it to be a first-choice provider in the Commercial UAS marketplace, as it has been for over a decade in the Government UAS sector.