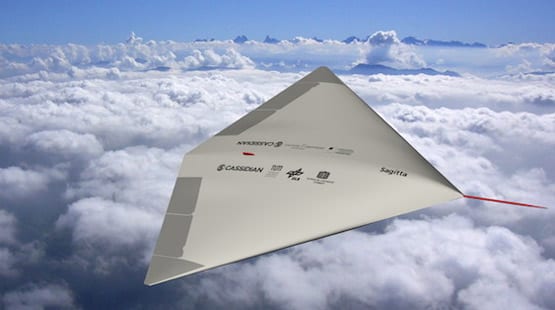 "Sagitta", Cassidian's research programme aiming at development of future Unmanned Aerial Systems' (UAS) technologies is entering a new decisive phase. Following development and testing of core elements, the integration of the aircraft is starting in Cassidian's Military Air Systems Center Manching, close to Munich.
In the project Cassidian is conducting basic research into future Unmanned Aerial Systems Technologies together with universities and research institutes. It includes the construction of a flight demonstrator, the purpose of which is to verify the validity and feasibility of the theoretical research results. The integration is planned to be finalized end of next year; first flights of the Sagitta demonstrator are scheduled for 2015.
"Sagitta is a perfect example of a successful cooperation between industry, research institutes and universities in the field of high technology and future-oriented research," says Aimo Buelte, Head of Research & Technology at Cassidian. "Our goal with Sagitta is to raise our knowledge of Unmanned Aerial Systems to the next level, because UAS are the future of aviation."
The reference configuration for the research work is a tailless flying wing with a wingspan of 12 metres. The demonstrator will initially be built on a scale of 1:4. The first wind tunnel tests have already been successfully completed. After 2 years of intense design work, the first parts of the extremely light-weight carbon fibre structure are now in production, and a dedicated system integration rig has been setup to start assembly of the individual avionic components and to perform the required hardware-in-the-loop simulations.
The Open Innovation Programme Sagitta consists of a total of seven research areas of UAS development: preliminary aircraft design, aerodynamics, flight control systems, communications and data processing, vision-based flight control and air-to-air refuelling, materials and structure, autonomous flight and mission control, simulation and systems integration.