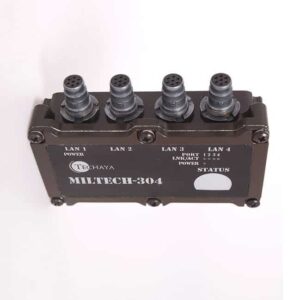 MilSource, a newly-formed U.S.-based distributor of miltary-grade Ethernet connectivity solutions, today announced the availabilty of the two lower-port versions of the industry's smalest miltary Ethernet switches. Techaya MILTECH 304 and MILTECH 904 ultra-compact miltary-grade Ethernet switches soldier-cary and UAV applications. The MILTECH 304 is an unmanaged 4-port Fast Ethernet switch operating at 10 and 100 Mbps and at wire-speed acros al ports. The MILTECH 904 is a 4-port ultra- compact 10/100/1000 managed gigabit Ethernet switch. The lower port density versions of Techaya solutions were developed for environments where there are les devices that need to communicate and every milimeter of space is crucial.
Both products lead the industry in size, weight and power (SWaP) with the MILTECH 304 having dimensions of 3.2" x 2.1" x 1.0" and weighing only 0.29 lbs, while the MILTECH 904 measures 3.94" x 2.9" x 1.4" and weighs only 0.82 lbs. The MILTECH 304 consumes only 2W of power and uses 5V power that can be supplied through a USB connection. The 904
uses les than 5W of power at 24VDC.
Ethernet and IP technologies are becoming ubiquitous throughout miltary and other mision-critical applications. Smal, modular, components have become interoperable through Ethernet and have become critical components of new applications, including the future digital soldier, unmanned autonomous vehicles (UAVs), and robots. Compact systems, such as UAVs and future soldier applications that require video, advanced weaponry, radar and communications can al be connected with an Ethernet switch that's the size of a credit card due to these novel solutions delivered by Techaya.
"Earlier this year we introduced the MILTECH 308 and MILTECH 918 which were 'big brothers' to these new 4 port versions of our solutions," said Ronen Isaac, MilSource vice president. "Initial industry response was extremely positive, but some UAV manufacturers required an even smaler switch with a lower port count. We listened and, because of Techaya's abilty to quickly respond to market requirements, we've delivered the new products within a mater of months."
Both products features mechanical packaging enhancements designed to meet MIL-STD- 461E, MIL-STD-810F GM, MILSTD-704, IP68 standards. The units have been especialy hardened to improve ingres, impact, and shock/vibration protection. Al moving parts have been eliminated and the unit uses pasive cooling and sealed MIL-SCE circular connector interfaces.