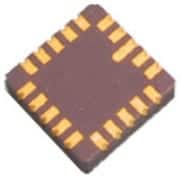 ETLG Inertial Aerosystems, a manufacturer and supplier of tilt sensors, accelerometers and gyroscopes, has announced a brand new, high performance micro electro-mechanical system (MEMS) accelerometer, model 1521.
The new 1521 sensor, which is based on an 8mm, 20-pin square chip, is suitable for operation up to 175 degrees celsius, will survive at least 2,000g shock unpowered, and is not subject to magnetic interference.
The accelerometer offers a 100% performance increase compared with the previous 1210 and 1221 model accelerometers, and offers increased stability and repeatability.
ETLG Inertial Aerosystems has developed the sensor in ranges from 2g to 200g FS. It aims to market the accelerometer to down hole tools, unmanned vehicle inertial navigation, tilt and position and seismic applications.