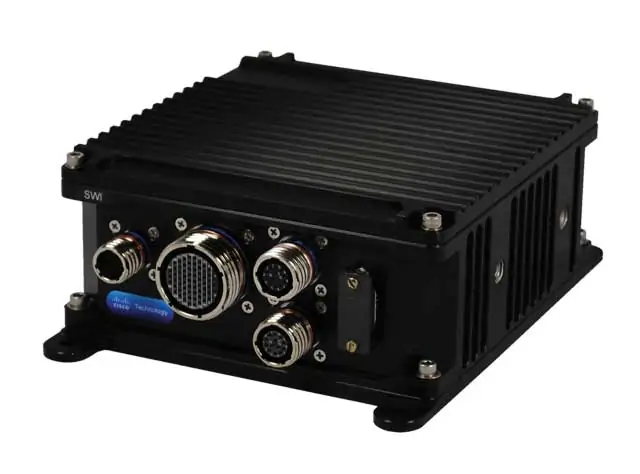 Parvus Corporation, a Cisco Solutions Technology Integrator (STI), will introduce the DuraNET 30-2020 at DSEI.
DURAnet 30-2020 is an ultra-rugged 19-port Cisco IOS-managed Layer 2 network switch subsystem integrating Cisco's ESS 2020 Embedded Services Switch technology. The unit has an isolated MIL-STD-1275/704 compliant power supply in an IP67 (dust/water proof) sealed aluminum chassis with MIL-DTL-38999 connectors.
Designed for Size, Weight and Power (SwaP) sensitive harsh military and civil environments (i.e. aircraft, vehicle, mining, industrial), the unit provides reliable local area network (LAN) switching capabilities with the ease of use, secure access, and manageability expected from Cisco-based technology.
Two levels of Cisco IOS software (LAN Lite or LAN Base) are available to support access layer connectivity and requirements for data, security, voice, and video traffic at the network edge for stationary or mobile network nodes.
An ideal solution for IP networking technology refresh and situational awareness applications, the DuraNET 30-2020 enables IPv4 and IPv6 devices (computers, cameras, sensors, routers, etc.) to be networked across extended operating temperature ranges (-40 to +71C) and extreme shock/vibration conditions without fans or active cooling devices.
The unit is designed to meet and will be qualification tested to extreme MIL-STD-461F EMI/EMC and MIL-STD-810G thermal, shock, vibe, humidity, and ingress conditions. To enhance reliability, the unit features no moving parts, a near cable-less internal design, industrial temperature grade components, EMI filtering, and power protections for the voltage surges, spikes and transients of aircraft/vehicles.
Backwards compatible with the functionality and connector pinout of Parvus' DuraNET 2955, the new DuraNET 30-2020 provides an enhanced migration path for legacy deployed Cisco Catalyst 2955T-based switch subsystems. Physical dimensions and weight are reduced, Ethernet port density is greater (2x GigE uplinks + 17x 10/100) and EMI/dust/water ingress and input power protections are improved. The unit's chassis is also modular in nature, enabling factory configured multi-function solutions integrating Parvus' DuraMAR 5915 Cisco IOS mobile router and/or Parvus' DuraCOR 80-40 Core i7-based mission computer subsystem in the same chassis.
Parvus also offers secure routers and network switches based on various Cisco technologies, including the Cisco 5915 ESR, Cisco IE-3000, Cisco Catalyst 4948E, and Cisco Catalyst 2955. Parvus incorporates these embedded, enterprise, and industrial IP network technologies into ruggedized solutions that are currently deployed at the network edge on passenger trains, commercial jets, unmanned drones, ground vehicles, military aircraft, missile defense batteries, space vehicle launch platforms, satcom systems, navy ships, and other installations.