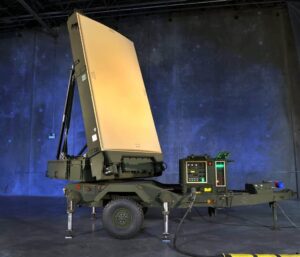 Northrop Grumman has demonstrated the AN/TPS-80 radar system to 40 members of the U.S. Air Force, Marine Corps and the Office of the Secretary of Defense. More than 50 additional participants and observers were connected in real time at multiple locations via secure webcast.
"The U.S. Air Force system variant of the Department of Defense AN/TPS-80 radar performed exceptionally well during this comprehensive demonstration," said Jeff Palombo, vice president and general manager of Northrop Grumman's Land and Self Protection Systems Division. "This mature system is a low-risk solution that can provide significant immediate and long-term development, production and logistics cost savings for our Air Force customer."
During the demonstration, Northrop Grumman's 3DELRR performed long-range detection and tracking of live aircraft via high-power S-Band Gallium Nitride transmit/receive modules while showing successful system ambient air cooling under extremely hot operating conditions and comprehensive automatic system self-test and calibration capabilities.
Designed to replace the current AN/TPS-75 radar systems, 3DELRR will be the primary Air Force ground-based, long-range radar for detecting airborne threats.
Based on Northrop Grumman's active electronically scanned array (AESA) radar technology, the company's 3DELRR solution is a highly mobile, affordable and reliable radar system that will give the Air Force powerful new air defense capabilities.
Northrop Grumman is a leader in the development of AESA radar systems. The company's ground radar systems include the AN/TPS-80 Ground/Air Task Oriented Radar and Highly Adaptable Multi-Mission Radar AESA systems as well as the solid-state AN/TPS-78 and TPS-703 radar systems.