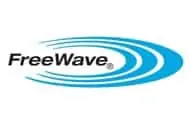 FreeWave Technologies, Inc., the innovator in industrial-grade M2M wireless networking solutions, has announced the addition of a 2.4 GHz frequency to its FIPS 140-2 Level 2 validated Spartan Series portfolio. OEM customers can now meet the growing demands of end users who need to operate in multiple bands (L and S) to meet compliance requirements for their command and control (C2) links. The 2.4 GHz also opens up more options to operate internationally where usage of other bands is restricted.
FreeWave has deployed more than 75,000 radios in the field for critical data transmission in government and defense applications over the past decade and has logged more than 1.6 million flight hours on multiple unmanned platforms by Insitu and AAI.
"Having a reliable communications network for the command and control of UAVs during combat plays a critical role in the implementation of defense strategies and tactics," said Ashish Sharma, CMO at FreeWave Technologies. "FreeWave is the leader for C2 communications in the UAV space. By continuing to add new frequencies to the Spartan Series, our customers can rely on a flexible solution with several options to meet their operational needs. Our solutions provide the secure data transmission needed when lives are at stake and we aim to continue meeting industry demands with new configurations and advancements."
By offering a FIPS 140-2 Level 2 crypto algorithm, the Spartan Series radios support counter mode, which uses a sequence of blocks to encrypt the data that is never repeated. In counter mode, critical data is more secure than the standard AES electronic codebook, where a given block of data will always return the same encrypted block of data. According to Sharma, enhanced security is key in preventing interference or enemy hijacking of UAVs and FreeWave's Spartan Series is designed to thwart those efforts. The Spartan Series, including the new 2.4 GHz frequency, also offers low power consumption and a long-range data link in a small form-factor.
"We are embracing the future expansion of UAV technologies and are determined to continue innovating and leading the industry with our communications solutions," said Sharma. "As the UAV industry evolves, our engineers are working hard to meet the growing needs of our customers who rely on our technologies at the last mile."
Spartan Series Configurations
The Spartan Series is available in the following frequencies:
2.4 GHz Serial
1.3 GHz Serial
1.3 GHz Ethernet
AUVSI Booth
FreeWave Technologies will be showcasing the Spartan Series, including its new 2.4 GHz product in its booth (#2706) at AUVSI. Attendees are invited to the booth for a complimentary product demonstration and the chance to enter to win an iPad. FreeWave will be announcing a winner on Aug. 15 at 1 p.m. EDT (must be present to win).
Availability
The 2.4 GHz Spartan Series is available now. Pricing varies, depending upon volume.