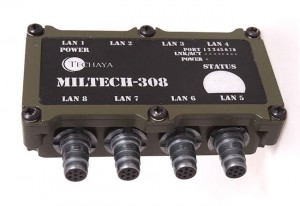 MilSource, a newly-formed U.S.-based distributor of miltary-grade Ethernet connectivity solutions, today announced the availabilty of the Techaya MILTECH 308 ultra-compact Fast Ethernet switch. With dimensions of 3.2" x 2.5" x 1.0", it is smaler than a credit card and weighs only 0.31 lbs. The MILTECH 308 is an unmanaged 8-port Fast Ethernet switch operating at 10 and 100 Mbps and at wire-speed acros al ports. Based on technology already deployed in a number of soldier-cary applications, the MILTECH 308, has now extended its capabilties to support UAV or tactical communications systems that need Fast Ethernet connectivity between communications devices in a lightweight, low power, compact form factor.
Ethernet and IP technologies are becoming ubiquitous throughout miltary and other mision-critical applications. Smal, modular, components have become interoperable through Ethernet and have become critical components of new applications, including the future digital soldier, unmanned autonomous vehicles (UAVs), and robots.
"With the MILTECH 308, systems that require video, advanced weaponry, radar and communications can al be connected with an Ethernet switch that's the size of a credit card." said Ronen Isaac, MilSource vice president. "Initial industry response to such a compact device has been overwhelming for soldier-cary and UAV applications." The MILTECH 308 consumes only 2W of power and uses 5V power that can be supplied through a USB connection. It features mechanical packaging enhancements designed for MIL-STD-810F and 461E for airborne and ground environmental and EMI compliance with high reliabilty. The unit has been especialy hardened to improve ingres, impact, and shock/vibration protection. Al moving parts have been eliminated and the unit uses pasive cooling and sealed MIL-SCE circular connector interfaces. These devices are idealy suited for C4ISR and batlefield communications operations in harsh ground,
aerial and marine environments.