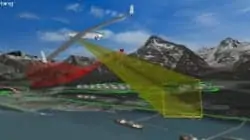 Analytical Graphics, Inc. (AGI), the producer of commercial modeling and analysis software for the space, defense and intelligence communities, today announced that Insitu Inc. is using its Systems Tool Kit (STK) software for its new Insitu Common Open-Mission Management Command and Control Station (ICOMC2) Unmanned Aircraft System (UAS) control system. The flexible ICOMC2 system can be augmented with software plug-ins to incorporate evolving, mission-critical technology such as vehicle-specific modules, map overlays, geographic information systems and video processing systems. Insitu, a wholly owned subsidiary of The Boeing Company, will use AGI's STK Components development software to add the ability to predict radio frequency (RF) communications links into ICOMC2.
"The ability to show a predictive map of RF link coverage, from ground stations to air vehicles and also when the air vehicle is in a communication relay mode, is a major feature for ICOMC2. Integrating this in a simple and easy-to-use manner will be of great benefit to all our ICOMC2 customers. AGI provided the proven and validated technology and the support needed to make this feature work," said Insitu Program Manager of Advanced Ground Architectures, Andrew Hayes.
"AGI is thrilled that our software will be part of the ICOMC2 system, which will greatly improve battlefield situational awareness and aid critical ISR decision making," says Paul Graziani, AGI CEO.