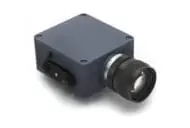 FluxData, Inc. will demonstrate their full line of tactical and research grade customizable multi-sensor, multispectral and polarization imaging systems at the SPIE Defense, Security & Sensing symposium and exhibition in Baltimore, Maryland on April 30 through May 2, 2013.
This FREE event is the largest international symposium related to sensors, systems, and platforms, and is an ideal venue for the company to present their line of multispectral systems. FluxData will be in booth 1240.
Operating between the Visible and Short Wave Infrared spectrum, FluxData's imaging systems deliver the combination of ruggedness, size, speed, and sensitivity necessary for the challenging imaging system requirements of defense, security, and surveillance markets.
On Monday, April 29th, Lawrence Taplin, CTO of FluxData, will deliver a paper on "Wide Field-of-View Dual Band Multispectral Muzzle Flash Detection", co-authored by Dr. Joseph Montoya, Army Research Laboratory. The presented paper is an overview of a novel wide field of view CMOS based Hostile Fire Detection System that provides simultaneous multispectral, temporal, and spatial detection of hostile fire and 90 degree FOV with a low Size Weight and Power – Cost (SWaP-C).