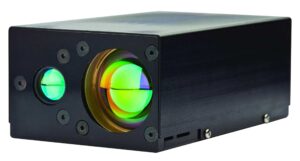 FLIR EOC has introduced the MLR 4K laser rangefinder, a SWaP- optimized, military grade ER:Glass solid state laser rangefinder. The MLR 4K is the smallest and lightest 4,000 meter class1 laser rangefinder available, and is the newest member of FLIR's popular MLR-K series of multi-kilometer class laser rangefinders.
The MLR-4K can fire continuously at up to 3 ranges per second. The unit measures only 34 x 54 x 89 mm, weighs 118 grams (without cover) and consumes less than 2 watts (when ranging), making it the ideal solution for handheld systems, weapon platforms and stabilized airborne and maritime turrets.
FLIR EOC is a leading designer and seller of highly-efficient semiconductor lasers, low-noise photodetectors and OEM electro-optical sub-systems for commercial and government applications. In addition to offering custom design services and volume manufacturing, FLIR OEM is a merchant supplier and offers a range of other laser and imaging products.