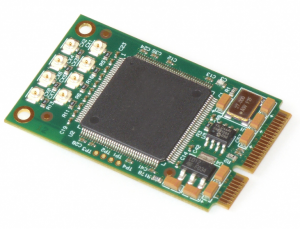 Advanced Micro Peripherals (AMP) has announced the launch of the AVC8000nano, a market leading 8 channel video capture on a mini PCI express card.
AVC8000nano is rugged, reliable and completely dependable in high pressure, demanding or extreme environments. AVC8000nano is ideal for UAV based video capture, real time situational awareness, law enforcement, crime scene recording and asset or traffic monitoring.
Combining impressive power with ultra-low latency, the AVC8000nano is capable of capturing up to eight concurrent analog video inputs, delivering pin-sharp imagery.
Lee Foss, Advanced Micro Peripherals' Founder and CEO commented: "Where image acquisition latency and clarity can mean the difference between success and failure, particularly in hostile environments, the AVC8000nano is an outstanding product delivering outstanding results time after time."
AVC8000nano's intuitive software controls allow captured video to be scaled, cropped and positioned effortlessly. In addition, captured video can be streamed continuously to system memory for immediate processing, local display or to disc storage.