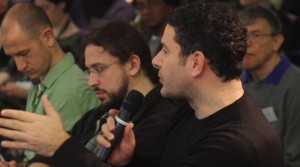 A recent 'Hot Topics' event organised by independent UK charity Nesta focused on opportunities for future application of UAV technologies.
The event, titled "Garden Drones: New possibilities in personal aerial vehicles" also hosted a discussion panel including Noel Sharkey (Professor of Artificial Intelligence at University of Sheffield), Liam Young (designer, futurist and critic at Tomorrow's Thoughts Today) and Steven Hailes (Professor of Wireless Systems at UCL and the SUAAVE project) to discuss the possibilities for UAVs in the future.
Nesta has now released video highlights of each of the panelist's discussions and questions and answer sessions. Each of the videos can be viewed below. More information about the event can be found here.
Hot Topics Garden Drones: Noel Sharkey
Hot Topics Garden Drones: Steven Hailes
Hot Topics Garden Drones: Liam Young
Hot Topics Garden Drones: Q&A