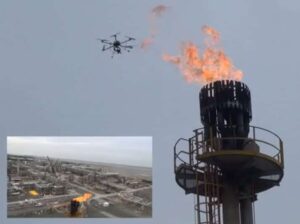 Aerial inspection and imagery specialists, AirRotorMedia, has released a video that demonstrates their capability for unmanned visual inspection of flare stacks within industrial plants and the oil and gas industry.
Using an intrinsically safe, EX-certified VTOL UAV (rotorcraft), inspections of flare stacks can be performed while the plant is online and fully operational, minimising shutdowns and isolations.
High resolution still images, HD video and thermal imagery allow engineers to analyse the structural condition of the stack and prioritise maintenance and refurbishment.