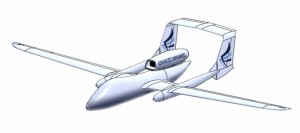 Aerial imagery company Advanced Unmanned approved the specifications for its customized unmanned aerial vehicle (UAV) fleet, completing the design phase of the aerospace project.
Advanced Unmanned contracted with Airboss Aviation Group to design the prototype UAV. The High Altitude Long Endurance (HALE) UAV incorporates technology features including:
Ability to complete missions longer than 15 hours, and above 45,000ft.
Multiple sensor payloads: Electro-Optical (EO), Infrared (IR), Synthetic Aperture Radar (SAR), Hyperspectral Imaging (HSI), and other sensors.
Near real-time delivery of imagery and associated products.
"The current aerial and satellite imagery market offers out-of-date technology and often lacks rapid response times," said Advanced Unmanned chief executive officer David Record. "Our custom UAV fleet will enable us to provide fast, accurate and high-quality images at a fraction of the cost of satellite and manned aerial image providers."
The first flight of the prototype UAV is scheduled for Q3 of 2014. The airplanes are projected to fly on manned missions by mid-year 2015, and once Federal legislation passes, fly unmanned missions in late 2015 or early 2016. Advanced Unmanned will provide global commercial organizations and government agencies near real-time delivery of affordable, accurate and ultra-high-resolution images using a proprietary, intuitive Web interface.