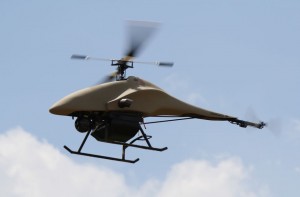 ISR Group, Inc. and Vanguard Defense Industries, Inc., leaders in unmanned systems technologies, have signed an exclusive agreement for ISR Group to perform flight operations, operator training, and maintenance services in support of Vanguard Defense's Shadowhawk unmanned aircraft system platform. This agreement will provide unmanned vertical takeoff and landing (VTOL) systems to support U.S. and NATO Forces, as well as other government agencies, and will allow for further advances of unmanned VTOL technology within the private sector for commercial applications.
The Shadowhawk Unmanned Aircraft System (UAS) is routinely deployed in the U.S. and internationally to provide real-time, actionable information where manned resources are limited or could be compromised. The Shadowhawk® VTOL UAS, with its multiple payloads, has a unique ability to provide live-streaming information at either low altitudes for detailed inspections or at higher altitudes with increased endurance and wider areas of surveillance.
The Shadowhawk VTOL UAS provides a safe, cost-effective solution to gathering high-resolution imagery and other data to support national security interests, inspect vital natural resources and infrastructure, and to assess disaster damage without risking additional personnel.
"Together, ISR Group and Vanguard Defense Industries will provide intelligence-gathering capabilities to military and government agencies without them having to carry the burden of heavy financial investments in rapidly evolving technology," said Alfred Lumpkin, ISR Group founder and CEO. "It's this value-added concept that will keep our country on the forefront of security advancements." Michael Buscher CEO of Vanguard Defense Industries added, "The pairing of the two companies now provide clients with a true turn-key solution to UAS operations which is unrivaled in the industry."
ISR Group is a leader in unmanned aerial vehicles, ground robotics, and underwater inspection and recovery services for government and commercial clients. ISR Group provides unmanned systems service and support to the world's leading aerospace and defense manufacturers as well as U.S. Government and State agencies and private sector enterprises. Vanguard Defense Industries is a leading developer and manufacturer of VTOL Unmanned Aircraft Systems. Vanguard Defense Industries provides innovated solutions in support of the military, state and federal governments, humanitarian organizations, and law enforcement agencies, as well as the private sector.