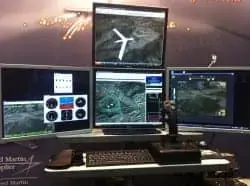 Corsair Engineering Inc.'s Full Mission Training SimulatorCorsair Engineering Inc. will have its Full Mission Training Simulator developed for Insitu's ScanEagle unmanned aircraft system on display at the upcoming AUVSI Unmanned Systems North America trade show from August 7-9, 2012 in Las Vegas, NV. Corsair Engineering, displaying in Booth 4833 will have the training simulator at the booth with Corsair Engineering Vice President of Training & Simulation Brant Bond available to discuss capabilities.
Insitu recently announced that its ScanEagle unmanned aircraft system has exceeded 600,000 combat flight hours, maintaining a 99 percent mission-readiness rate. While 600,000 combat flight hours is a most noteworthy accomplishment, the fact that Insitu has produced 1,400 ScanEagle aircraft while maintaining a 99 percent mission-readiness rate in an extremely demanding wartime environment is virtually unparalleled.
Knowing that the Full Mission Training Simulator plays an integral part in the achievements of the ScanEagle, the Corsair Engineering team works to ensure operators are ready for any challenge they may face.
"Corsair congratulates Insitu and its ScanEagle team on achieving this significant milestone. We work closely with their professionals to ensure the operator is prepared for success on day one of a deployment and take pride in our device's role in their training," said Bond.
Due to the continued growth in civilian use of unmanned systems, the training simulator can easily be adapted to meet the needs humanitarian, agricultural, and construction projects.