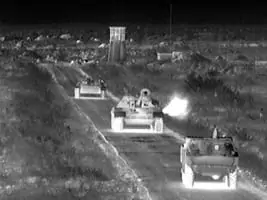 Sofradir's L-HOT MWIR demonstrator offers thermal equipment makers power efficiency with no trade-off in detection range.
Sofradir, the number one developer and manufacturer of a key class of infrared detectors for military, space and industrial applications, announces today that it will demonstrate a prototype High Operating Temperature L-HOT MWIR integrated detector cooler assembly (IDCA)  that offers a significantly improved detection range over earlier models.
The L-HOT MWIR demonstrator meets system integrators requirements to reduce SWaP (Size, Weight and Power) in military equipment.
"Producing infrared detectors that are compact, lighter and save energy is driving much of our developments at Sofradir," said David Billon-Lanfrey, VP R&D at Sofradir. "L-HOT MWIR ensures that customers get a high operating temperature IR detector with all the gains and no trade-off in image quality and NETD in order to keep the highest detection range."
NETD (Noise-Equivalent Temperature Difference), the signal over noise ratio of the IR detector is an important attribute for evaluating image quality and detection range (the ability to see smaller objects at greater distances in all weather conditions). An IR chip with high standard NETD performance is more apt at detecting slight differences in temperature between objects. This provides more detail and more accurate images,  which is desirable for users looking for SWaP reductions in hand-held thermal imagers, small gimbals for small Unmanned Aerial Vehicles (UAVs) as well as long endurance systems, such as border surveillance or 24hr surveillance.
Yet, with high operating temperature IR detectors and increased power efficiency comes dark current (useless information like noise) that can interfere with NETD. By using a p-on-n MCT (Mercury Cadmium Telluride) photodiode technology, Sofradir has overcome the dark current problem, while keeping the nominal five-micron cut-off wavelength.
"To achieve a cut-off wavelength at five microns that enables L-HOT MWIR to offer low power consumption in a full performance IR detector with no trade-off in NETD, Sofradir switched to a p-on-n photodiode technology," said David Billon-Lanfrey, VP R&D at Sofradir. "With a cut-off wavelength at four microns obtained with other technologies, there are fewer input photons on the IR detector and the NETD is degraded. Our L-HOT MWIR prototype has a cut-off wavelength of five microns at 150K and that is a significant achievement."
TV format 15 micrometre pitch L-HOT MWIR integrated detector cooler assembly (IDCA) prototype operates at 150K (-123°C), 60K higher than standard MCT IR detectors (90K,  -183°C) in the three to five-micron waveband and consumes less than two watts.
Today, it achieves the same NETD (better than 20mK) as Sofradir's standard full performance mid-waveband IR detectors.