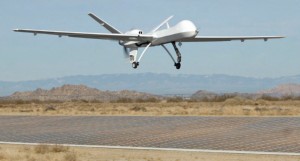 FAUN TRACKWAY USA, the leading manufacturer of portable roadways and runways, will be showcasing its UAV Landing Mat at the Association of Unmanned Aerial Vehicle Systems International's (AUVSI) exhibition in Las Vegas.
The UAV Landing Mat – the first of its kind to be developed – is made of lightweight aluminium matting and provides a temporary smooth landing, regardless of terrain, for any size or weight of UAV.
Launched in autumn 2011, the mat can be deployed rapidly by hand and will prevent foreign object damage (FOD) so valuable UAV assets are protected. Arrestor gear, usually found on aircraft vehicles, can also be fitted to enable aircraft to rapidly decelerate on landing.
Over 40 different countries worldwide use FAUN TRACKWAY's suite of ground surfacing products and the Australian Armed Forces were the first to invest in the UAV Landing Mat with an 800,000 pounds Sterling order in December 2011.
Mike Holdcraft, VP business development at FAUN TRACKWAY USA, said: "As modern air combat and surveillance become increasingly dominated by UAVs, armed forces need to be sure they have the runway infrastructure in place to support operations taking place in remote locations."
"Our new UAV Landing Mat gives armed forces another tool in their armoury for deploying and retrieving drones in a wide range of climates, dramatically increasing their ability to employ UAVs during challenging operations."
FAUN TRACKWAY USA is exhibiting on stand 4913 at AUVSI's unmanned systems exhibition in North America.