The CarteNav team members attending Eurosatory 2012 are enjoying plenty of interest in their ISR solutions AIMS-ISR® and AIMS-HD, whilst demonstrating their commitment to Partner companies.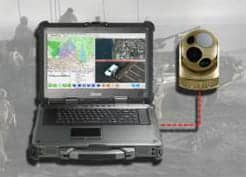 Eurosatory, the international "Land Security & Defence" exhibition is presently underway at the Paris-Nord-Villepinte exhibition centre, 11-15 June. As the world leader in this domain, Eurosatory offers a unique opportunity for attendees to meet with Defence & Security experts from all over the world.
This year Eurosatory has placed a high emphasis on electro-optical infrared (EO/IR) surveillance systems.
CarteNav Solutions Inc. is attending the show with partners L-3 Wescam and CAE Aviation to demonstrate the practical benefits and application of such systems when applied to the Land Surveillance and Security sector.
Recent advances in modern imaging systems have seen high-definition EO/IR imaging technology, such as L-3 Wescam's MX-10GS, getting lighter, tougher, and more compact – thereby more suited to the rigorous demands of land surveillance platforms and domestic security applications.
The Halifax-based company has described how the situational awareness capabilities offered by AIMS-HD and AIMS-ISR® enhance the overall value proposition of modern EO/IR imaging systems, at a price point and configuration well suited to the military land surveillance and public security domain.
"CarteNav is attending the show to demonstrate the operational benefits of pairing world-class EO/IR imaging systems with the data capture, image exploitation, and situational awareness capabilities offered by AIMS-HD," said Michel Lechmann, CarteNav's CFO and founding member late last week.
"CarteNav's software solutions will deliver superb value to the Land Surveillance and Security market by acting as a force-multiplier to any platform fitted with an EO/IR system."
Eurosatory is both a Defence and Public Security Event so the surveillance products showcased are often dual-use and have multiple practical applications.
"We see the show as the perfect venue for demonstrating CarteNav AIMS Family of Products and it offers us the chance to come out and support our partners," he said.
The three companies share an outdoor exhibit space where they collectively demonstrating the innovative intelligence, surveillance, and reconnaissance (ISR) products and services each company offers.