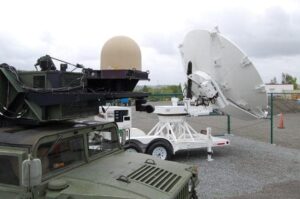 Boeing has successfully demonstrated its SATCOM on the Move (SOTM) product on a live Ka-band satellite network. The demonstration in May connected three sites in Australia and the United States using integrated voice, video, and data communications over the increased bandwidth available on the latest generation Ka-band satellite mobile terminals. This capability uses the Wideband Global SATCOM (WGS) system, also developed by Boeing.
During the demonstration, High Mobility Multipurpose Wheeled Vehicles (Humvees) fitted with cameras and handheld radios successfully connected to test labs in Australia and the United States, simultaneously combining videoconferencing with military radio and telephones. The integrated SOTM demonstration proved core elements of a seamless, secure and deployable communications system.
This latest SOTM product evolved from combat-proven technologies used by the U.S. Army during Operation Iraqi Freedom in 2003.
"This demonstration shows the maturity and readiness of Boeing's capabilities in the suite of services required to provide satellite communications on the move," said Kim Gillis, vice president and managing director of Boeing Defence Australia. "Our proven SOTM technology will provide defense customers with confidence that HQ on the Move capability can be achieved on the Ka-band satellite system ready for the WGS network."
Boeing Defence Australia, a wholly owned subsidiary of The Boeing Company and a business unit of Boeing Defense, Space & Security, is a leading Australian aerospace enterprise. With a world-class team of about 1,300 employees at 15 locations throughout Australia and four international sites, Boeing Defence Australia supports some of the largest and most complex defense projects in Australia.