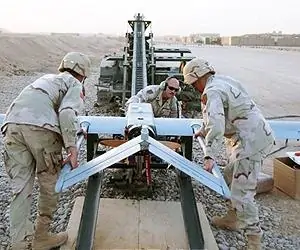 Lockheed Martin successfully conducted the first launch of a Shadow Hawk precision-guided weapon recently from a Shadow 200 Unmanned Aircraft System (UAS), achieving a direct hit on the target.
Shadow Hawk is an 11-pound class, 2.75-inch diameter, 27-inch long drop-glide weapon. It is terminally guided by a semi-active laser seeker, providing better than one meter precision. Shadow Hawk also provides an essential off-axis capability, enabling engagement of designated targets off the aircraft's wing.
"As the mission of the Shadow UAS continues to evolve, it will need capability that can immediately neutralize threats detected and designated by the Shadow's sensor package, with minimum impact to the aircraft's endurance," said Glenn Kuller, director of advanced programs in Lockheed Martin's Missiles and Fire Control business. "With precision strike accuracy, the Shadow Hawk is an ideal solution in urban environments where low collateral damage is essential."
The test was conducted at the UAS Rapid Integration and Acceptance Center, Dugway Proving Grounds, Utah. The Shadow Hawk munition was released from an altitude of 5,100 feet and impacted the target at a speed of 460 feet per second. Shadow Hawk's sensor package, guidance electronics and control section successfully navigated the weapon to the target, hitting it just eight inches off the laser spot center. For this initial demonstration, the target was designated with a ground location laser designator.
As a lightweight, compact and modular precision weapon, Shadow Hawk reliably delivers an effective and lethal anti-personnel warhead from UAS platforms with limited size and weight payload capacities. Its low weight enables the Shadow UAS to maintain longer time-on-station for performing critical reconnaissance, surveillance and target acquisition operations.
"Equipped with Shadow Hawk and the UAS's electro-optical and infrared cameras, a Shadow UAS can now offer battlefield commanders timely detection of threat activities, including fleeting and time-sensitive threats, along with a quick-strike capability," Kuller said. "All of Shadow Hawk's seeker and guidance components are flight proven and production ready, having been developed and tested on other Lockheed Martin weapon systems."
Headquartered in Bethesda, Md., Lockheed Martin is a global security and aerospace company that employs about 123,000 people worldwide and is principally engaged in the research, design, development, manufacture, integration and sustainment of advanced technology systems, products and services. The Corporation's net sales for 2011 were $46.5 billion.