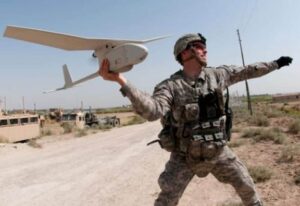 AeroVironment today announced it will employ its small unmanned aircraft systems (UAS) to demonstrate aerial communications capabilities for the Federal Communications Commission's Deployable Aerial Communications Architecture (DACA) Notice of Inquiry (NOI) proceeding. The DACA NOI is examining the ability to re-establish communications rapidly using aerial platform technology following a natural or man-made disaster that renders existing communications networks unusable.
AeroVironment will support the DACA program by conducting demonstrations using its family of portable, hand-launched small UAS for airborne communication relay. Transportable in a backpack or vehicle and operated using a hand-held control unit, AeroVironment's small UAS can be assembled and launched in less than five minutes and can fly for between 45 minutes and two hours, depending on the model.
The demonstrations will utilize AeroVironment's Digital Data Link (DDL), a standard component of its small UAS, as well as third party communications payloads to connect users with data and voice over long distances. The DDL enables encrypted, beyond-line-of-sight voice, video, data and text communication through each unmanned air vehicle and ground station, and will provide broadband network connectivity for the DACA demonstration. Off-the-shelf communication relay payloads carried by the small UAS will enable hand-held public safety and emergency response radios to communicate with one another over long distances or beyond-line-of-sight, and without ground-based antennas or repeaters.
AeroVironment will work with the FCC to obtain appropriate experimental licenses, coordinate the demonstrations, and showcase how portable, rapidly deployable and affordable small UAS technology can be used to support the DACA mission.
"AeroVironment's small UAS have proven themselves to be reliable, rugged, and cost-effective lifesaving tools for troops on the frontline," said Roy Minson, AeroVironment senior vice president and general manager of Unmanned Aircraft Systems. "We are seeing only the beginning of the utility these tools can deliver to military and non-military users. By demonstrating how small UAS can also provide instant communications capabilities we hope to help the FCC and industry envision valuable new applications of our technology to preserve lives, property and resources."