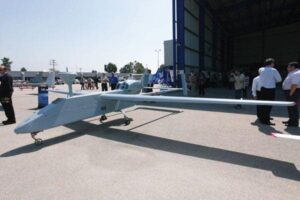 The annual convention of the Association for Unmanned Vehicle Systems International (AUVSI) was held this year, for the first time, in Tel-Aviv, Israel. Experts from Israel Aerospace Industries (IAI) lectured during the convention on innovations and new developments in Unmanned Aerial Systems (UAS), Unmanned Surface Vehicles, advancements in the Registration of UAS with air regulatory authorities, operational use of IAI's various UAS in Afghanistan and more.
During the convention's final day (Thursday, March 22, 2012) IAI hosted an impressive demonstration of technological prowess for AUVSI participants and international media representatives.
IAI's display included Unmanned Aerial Systems (UAS) and ground robotics. The "Heron" MALE UAS as well as the "Ghost", "Panther", "Searcher" and other UAS were on display, while the "REX" unmanned field porter and G-NIUS unmanned ground system capabilities were successfully demonstrated. Among IAI's advanced radar systems on display were various radars designed for tactical UAS, and ground surveillance radar systems. Special payloads and advanced navigation systems were also on display.