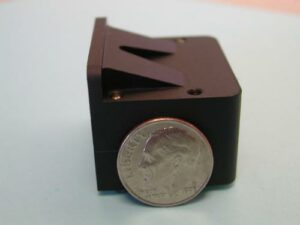 Raytheon Company (NYSE: RTN) has developed a miniaturized interrogation antenna capability to extend use of its Cooperative Target ID technology to soldiers and unmanned aircraft to help prevent fratricide. This effort builds upon an existing Raytheon antenna design and additional enhancements performed in concert with the U.S. Army CERDEC Intelligence & Information Warfare Directorate (I2WD).
The new miniature antenna is approximately the size of an ice cube and weighs only a fraction of an ounce. It capitalizes on proven cooperative millimeter wave technology, which has been certified at technical readiness level seven by the military for use on combat vehicles.
"This new miniaturized antenna is ideal to meet the constrained size and weight requirements posed by individual soldier and UAS (unmanned aircraft system) applications, and it represents a technological breakthrough that can be of immediate benefit to our warfighters," said Glynn Raymer, vice president of Raytheon's Network Centric Systems' Combat Systems.
Raytheon's mini antenna development is the latest enhancement of its Cooperative Target ID technology successfully demonstrated to I2WD as part of the Light Vehicle Demonstration contract. This technology can be commonly applied to airborne platforms, ground vehicles and dismounted warfighters, providing air-to-ground and ground-to-ground mission capabilities. The technology is designed for ease of integration with surveillance, targeting and soldier systems.
"Raytheon's Cooperative Target ID technology has repeatedly demonstrated its mission effectiveness in locating friendly forces during numerous U.S. government-sponsored ground and airborne field test exercises over the past seven years," explained Raymer. "It is easy to use by soldiers and pilots alike, and the feedback from test personnel has been uniformly positive."
During testing at the Bold Quest 2009 exercise, the radio frequency-based technology was mounted inside an F/A-18 Super Hornet fighter aircraft pod. Raytheon's combat ID solution provided an essential air-to-ground capability to reliably identify and locate "friendlies" equipped with the technology at typical tactical close air support ranges in real time and under all-weather and typical, obscured battlefield environments, including urban settings.
Raytheon Company, with 2010 sales of $25 billion, is a technology and innovation leader specializing in defense, homeland security and other government markets throughout the world. With a history of innovation spanning 89 years, Raytheon provides state-of-the-art electronics, mission systems integration and other capabilities in the areas of sensing; effects; and command, control, communications and intelligence systems, as well as a broad range of mission support services. With headquarters in Waltham, Mass., Raytheon employs 72,000 people worldwide.