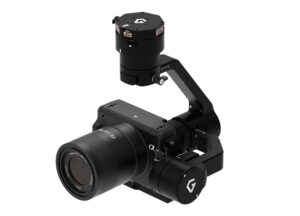 Gremsy has introduced Pixy LR, a new cutting-edge gimbal solution specifically designed for the Sony ILX-LR1 61 MP full-frame mirrorless camera. This specialized payload solution is ideal for supporting industrial and professional drone applications that demand superior imaging quality, and provides convenience, user-friendliness, and efficient performance.
Built upon the inherent compactness advantage of the Pixy line, the Pixy LR maximizes camera benefits and extends flight time during industrial missions. With dimensions measuring 140 mm in length, 200 mm in height, and 115 mm at its widest point, and a standard weight of 495g (including the quick release), this gimbal is not only compact and lightweight but also equipped with the powerful stabilization technology necessary for capturing outstanding photography and smooth video.
Pixy LR has been optimized for superior image stabilization when coupled with the following seven lens options: SEL35F28Z, SEL24F28G, SEL50F25G, SEL28F20, SEL35F18F, SEL55F18Z, and SEL85F18. This equips users with multiple combinations for their ILX-LR1 camera, allowing for an extensive choice of shooting angles and effortless adaptation to various scenarios without changing the camera. In addition, users can easily and quickly switch between lenses while the gimbal remains attached, enhancing both efficiency and convenience.
Pixy LR is the first Gremsy gimbal to incorporate USB 3.0 (5Gb/s) compatibility, making transferring, storing, and manipulating your images or videos easier and faster. With this innovation, the Pixy LR and new Sony camera combination can deliver excellent image quality and ensures that detailed and accurate images can be captured through high-speed transmission.
The gimbal has an intuitive hardware interface with ports including power, CAN, COM, SBUS, USB 3.0, AUX, and HDMI. These ports make it simple to connect different devices such as remote controls, third-party flight controllers, and extra accessories to power your camera setup. Pixy LR also supports GSDK (Gremsy SDK) and MAVSDK (MAVLink SDK) via UART interfaces. These integrated SDKs provide developers with customization and expansion capabilities, enabling them to construct applications tailored to their specific requirements.
Multi-platform support remains a prominent advantage of Pixy LR. It features broad compatibility with leading drone autopilots and systems such as Pixhawk, CubePilot, Skynode, Airpeak and DJI M600, ensuring seamless integration and giving users the flexibility to choose from a variety of drone platforms.