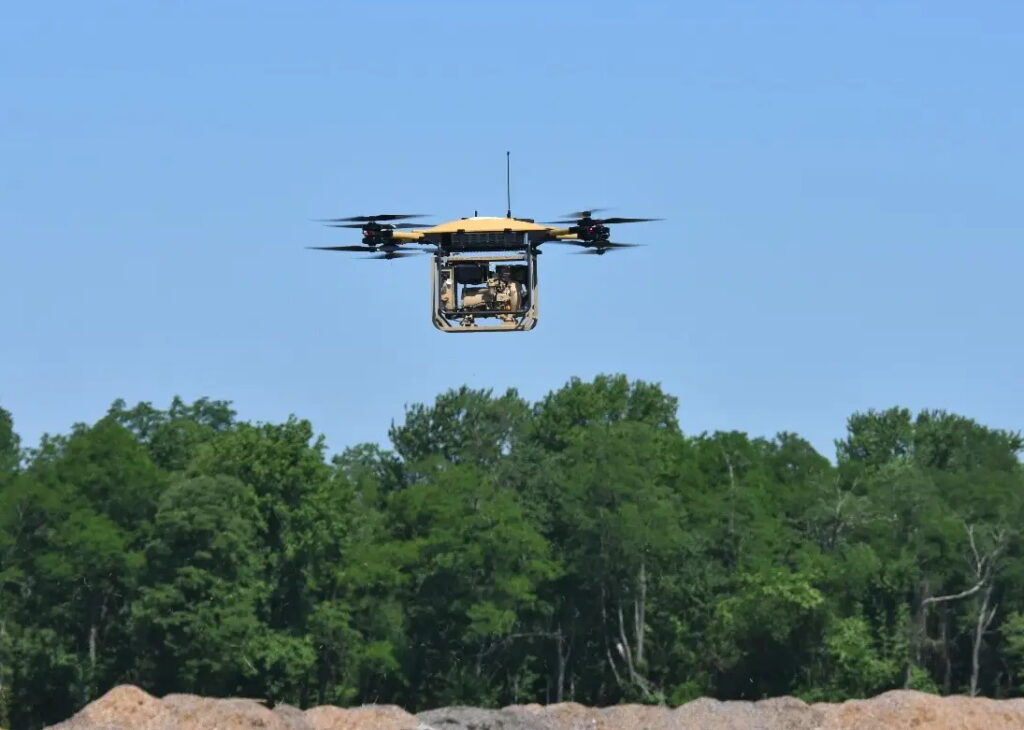 uAvionix has confirmed that the company's AIMS-certified RT-2087/ZPX Combat ID and Air Traffic Control surveillance system has been selected for inclusion in Tactical Resupply Unmanned Aircraft Systems (TRUAS) being produced for the U.S. Navy and Marine Corps by contractor and uAvionix customer SURVICE Engineering.
TRUAS are innovative multirotor drones that augment logistical operations at the forward edge of the battlefield. Capable of carrying more than 100 pounds over distances ranging from 6 to 15 km, the units will support the delivery of critical supplies to forward-deployed units. The RT-2087/ZPX satisfies the systems' Identification Friend or Foe (IFF) Transponder and ADS-B requirements, enabling them to operate both on the battlefield and in civilian airspace.
Small UAS require low-SWaP avionics to save space and weight for operational capabilities such as extended range or heavier packages. Military use of sUAS adds additional requirements to ensure that the aircraft itself can be properly identified for airspace deconfliction and battlefield situational awareness. In particular, these combat UAS must be equipped with transponders that allow armed forces to distinguish friendly aircraft from enemy aircraft. This capability, commonly known as Identification Friend or Foe (IFF), relies on transmissions between an interrogating device and the aircraft where the messages are encrypted to prevent interception by enemy forces. Traditionally, IFF transponders have been bulky and heavy, and suitable only for larger aircraft. However, with the advent and AIMS certification of the RT-2087/ZPX in March 2021, UAS used for tactical military operations can now be equipped with a fully functional IFF micro transponder and associated crypto unit with a weight measured in grams instead of pounds.
The uAvionix line of ZPX transponder products, including the RT-2087/ZPX, enables secure Mode 5 platform identification for UAS. Each uAvionix ZPX transponder has a built-in crypto emulator to support development and testing without the security burdens imposed by using actual cryptos, and also possess Mode S/1090ES ADS-B functionality to comply with civil requirements and simplify equipage for military aircraft having to transit civil airspace.
Christian Ramsey of uAvionix Corporation commented: "We congratulate SURVICE Engineering on this important award. The TRUAS program will provide an important function to the U.S. Navy and Marine Corps and demonstrates how innovative small UAS can support the warfighter in multiple roles."
"The RT-2087/ZPX delivers uncompromised performance in a convenient, rugged, miniaturized form factor that meets the needs of tactical UAS operations. Our continued collaboration with SURVICE Engineering highlights the importance of proven and dependable low Size, Weight, and Power (SWaP) avionics and their ability to deliver core functionality while not impacting UAS payload and range performance."