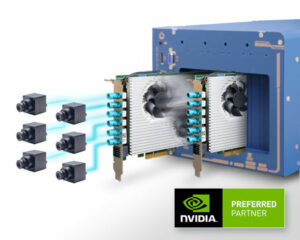 Rugged embedded systems developer Neousys Technology has released PCIe-GL26, its latest AI-enabled frame grabber card that incorporates drivers for selected GMSL2 cameras with video streaming sample codes for AI applications.
With 6x GMSL2 FAKRA Z connectors supporting automotive GMSL2 cameras, the PCIe-GL26 is powered by NVIDIA Jetson 16GB/ 8GB Xavier NX System-on-Module (SOM) and provides 21TOPS of AI inference computation that is capable of encoding simultaneously up to twenty-two [email protected] video streams.
The PCIe-GL26 series features 6x GMSL2 FAKRA Z inputs that support 2MP/ 5MP automotive GMSL2 cameras and can synchronize camera triggers by GPS PPS and onboard MCU.
It also features x2 Gen3 PCIe interface, 1x GPS PPS input for frame sync calibration, 1x RS232, 1x isolated CAN 2.0, and standalone mode with development I/O.
Ideal for developers of x86-based autonomous vehicle computing platforms, PCIe-GL26 series is a versatile AI-enabled GMSL2 PCIe card for easy system upgrades. It is compatible with both Windows and Linux systems without special boot sequences. Should a system have vacant PCIe slots, users can install up to four PCIe-G26 cards and connect up to 24 GMSL2 cameras. In addition, PCIe-GL26 is designed to withstand harsh environments with a wide operating range of -25°C to 60°C.
"PCIe-GL26 is Neousys' highly-integrable solution that can effectively erase barriers and limitations of deploying GMSL2 cameras on existing x86 computers for emerging autonomous vehicles applications," said Kaichu Wu, Product Manager at Neousys Technology. "Compared to traditional FPGA-based GMSL2 frame grabber cards, a PCIe-GL26 can deliver 21 TOPS AI inference performance, provide high-quality raw video streaming with 3-exposure HDR, LFM, auto exposure, and auto white balance. Also, traditional HD map collection requires GMSL2 frame grabber and a GPU card to function. Whereas the Neousys PCIe-GL26 can directly output encoded H.264/H.265 video streams, dramatically simplifying the deployment system architecture."