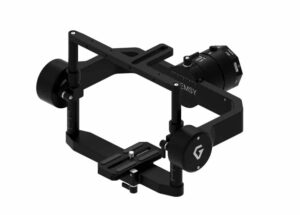 Gremsy has launched a new two-axis version of the T3V3, a gimbal designed for industrial and enterprise UAVs (unmanned aerial vehicles). Weighing in at just 745g and lighter than the standard T3V3 by 30%, the new gimbal delivers enhanced capabilities and enables extended flight times for a wide range of industrial missions.
Though three-axis gimbals offer an extra level of stabilization, they are not always superior to two-axis gimbals for industrial missions. If you are looking for a small, light gimbal, optimized for height and mass and highly adaptable with multiple drone platforms, the new 2-axis gimbal can be a highly suitable option. It provides the same image and video quality level as 3-axis gimbals but provides a longer flight time. It can also be optimized for specific applications such as land surveying, 2D & 3D LiDAR mapping, and inspection of wind turbines, power lines, bridges, and more.
For instance, when it comes to bridge inspection, accessing the underside of a bridge can be a major obstacle. In this case, a drone equipped with a front-mounted two-axis gimbal gives operators an unobstructed view from top to bottom. As a result, inspectors can see beneath and beside the spans, gathering valuable visual data on these crucial areas of the bridge.
Fully supporting MAVLink protocol and enabling connections to the most widely used drone systems available today, the two-axis T3V3 is ready to fly with drones using CubePilot, PX4, etc. The two-axis T3V3 also provides advanced I/O connections for USB-C, HDMI, AUX, COM, and POWER to facilitate communication between the gimbal and the camera, drone, and remote controller.
The Gremsy two-axis T3V3 features two mounting options: front and bottom. Using the standard T3V3 dampening system, the gimbal can be easily fitted beneath the aircraft with the bottom mount option. Depending on the specific configuration, certain drones with short-landing gear may require a dampening adapter. With the front mounting option, the two-axis T3V3 dampening system will be customized to fit the drone platform.