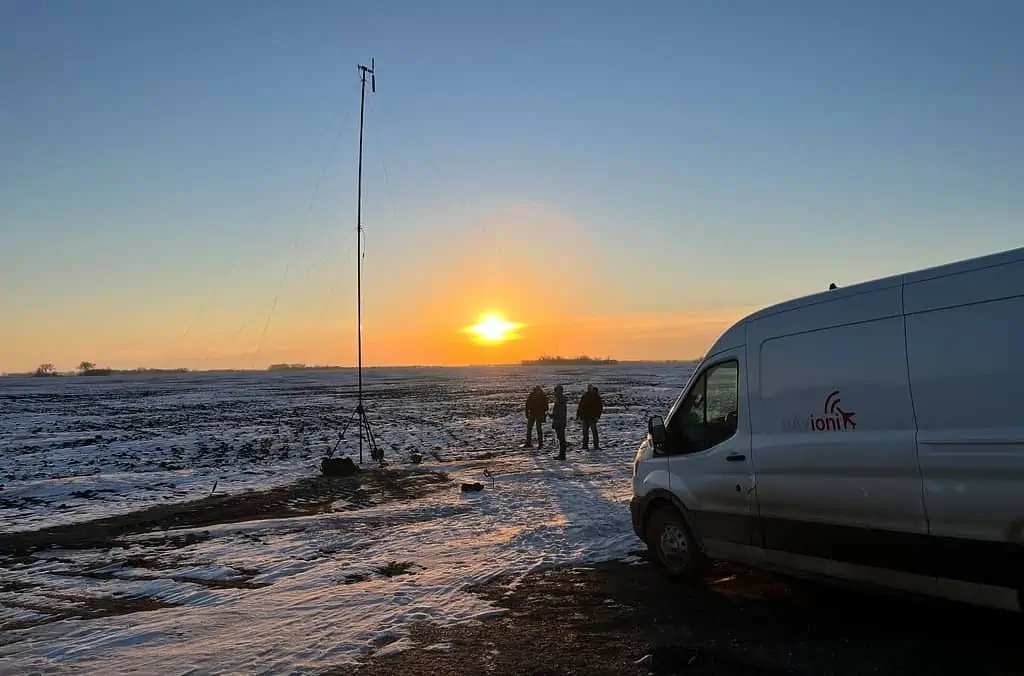 uAvionix has confirmed that its SkyLink Control & Non-Payload Communications (CNPC) C-band UAV (unmanned aerial vehicle) radio has been successfully flight-tested at the Northern Plains UAS Test Site (NPUASTS) locations south of Grand Forks, North Dakota. The radio, which has been designed to meet the needs of safety-critical and BVLOS (beyond visual line of sight) missions as well as operators and manufacturers looking to certify their drone platforms, was tested at ranges of up to 25 miles.
Regulators increasingly focus on the performance of safety-critical control data, and recent RTCA standards recommend separating it from payload data for scalable commercial unmanned aerial systems (UAS) operations. While most UAS still operate on public spectrum such as ISM or 4G, current BVLOS waivers are primarily focused on recovery procedures to deal with the probability of a lost C2 (command and control) link.
uAvionix SkyLink CNPC radios and the paired SkyLine application are entirely focused on preventing lost links, through aviation-grade software and hardware design, full compliance with RTCA Minimal Operational Performance Standards (MOPS DO-362A), and a network management system that monitors network and radio link health, built to Minimum Aviation System Performance Standards (MAPS DO-377A).
The SkyLink C Band CNPC radio is fully DO-362A compliant, utilizing key concepts such as the ability to accept dynamic frequency inputs for Frequency Allocation Management (FAM), utilizing protected aviation spectrum for a stable and predictable C2 link performance to support BVLOS operations and safety-critical missions. SkyLink radios are built to anticipated TSO C-213A standards and targeted at demanding customers including those pursuing airframe certification.
The SkyLink CNPC radio system is developed to aviation-grade software & hardware requirements and consists of three main components:
SkyLink airborne radio (ARS), a low Size, Weight and Power (SWaP), Multiple Input, Single Output (MISO) dual airborne radio system
SkyLink ground radio (GRS), an IP67 all-weather dual dipole ground radio system, compliant with DO-362A GLXS
SkyLink HUB, an IP67 network-ready communications hub, and TSO certifiable GPS receiver and antenna for multiple SkyLink GRS radios
The SkyLink radios can be used as a standalone radio system for a single Ground Control Station (GCS) or can be networked to provide linear or area coverage for larger-scale BVLOS operations, such as those currently taking place at Vantis in North Dakota, where the combined system will operate as the C2 Communications Service Provider (C2CSP) for the State network.
SkyLink provides the data exchange required for safety-critical operations to control, monitor, and manage a UAS in real-time. SkyLink radios seamlessly integrate with other certified avionics designed with airframe certification in mind such as truFYX GPS, ping200X, and the George autopilot.
Jim Cieplak, Program Manager of Vantis, commented: "A reliable and predictable C2 link built to aviation standards (e.g., RTCA DO-362A) is a critical component in obtaining scalable BVLOS operations. The uAvionix SkyLink radios and SkyLine Command & Control infrastructure are an essential component of the Vantis deployment to obtain a path to commercially viable BVLOS operations in the State of North Dakota."
Christian Ramsey, President of uAvionix, stated: "Together with our partners at the Northern Plains UAS Test Site, Vantis, Thales, the FAA, and MITRE, we completed this significant milestone which will propel commercial UAS operations. We maintained a stable connection at a range of well over 25 miles at a 400' operating altitude with a DO-362A compliant radio system, a first of its kind."