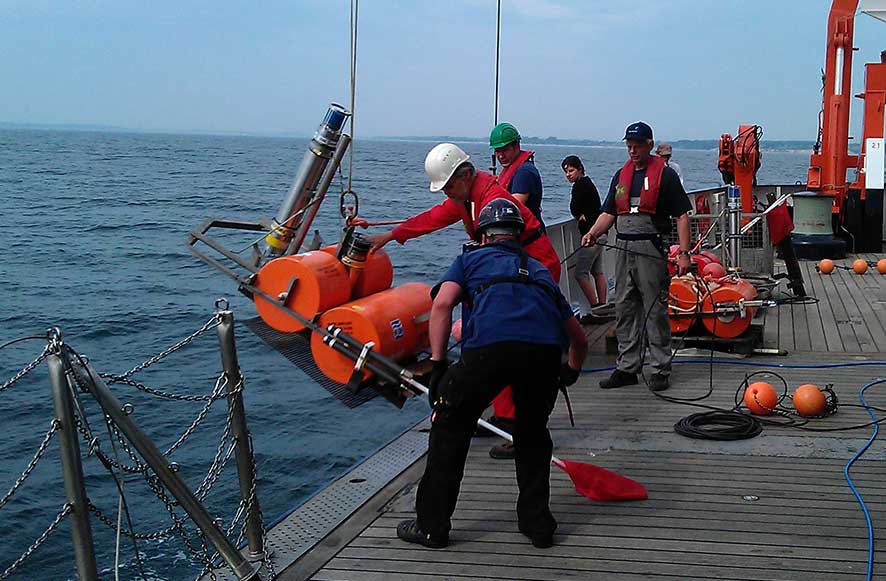 Sonardyne has won a Queen's Award for Enterprise in Innovation for its pioneering system for the study of ocean floor movement. The seabed deformation monitoring system is used globally by the energy and ocean science sectors to gain critical new understanding of the seafloor and the physical processes that act upon it. The Queen's Award, conferred by Her Majesty Queen Elizabeth II on advice of the Prime Minister, recognises and encourages commercial success resulting from outstanding innovative achievements by businesses in the UK.
The system uses a network of autonomous, battery-powered instruments to measure horizontal and vertical seabed movement at a level of precision that was previously impossible. It was originally developed for the offshore industry to identify geological hazards within oil and gas reservoirs, and has been adopted by the earth science community to study a wide variety of phenomena such as undersea landslips near volcanoes to deep sea plate tectonic motion.
The instruments used in Sonardyne's seabed deformation monitoring system feature low-power electronics, long-life batteries and pressure-tolerant housings, enabling them to remain on the seabed for more than 10 years at a time. They also contain Sonardyne's underwater digital acoustic communications technology, which also previously wo a Queen's Award for Enterprise in Innovation. This technology allows hundreds of instruments to be deployed simultaneously and the data they gather to be wirelessly gathered using USVs (unmanned surface vessels) and UUVs (unmanned underwater vehicles).
Users of Sonardyne's seafloor monitoring system include international energy company Shell and Earth research organisation Scripps Institution of Oceanography.
Graham Brown, Managing Director of Sonardyne, commented: "On land, global positioning satellites are used to undertake real-time earth observations, but the signals they transmit cannot penetrate through water. This has created a huge challenge for the energy and earth science community. Put simply they've been bound by the limits of physics. We have broken through these limitations and opened up new capabilities. This has led to a whole new era of research for seabed science, delivering new insights into the fundamental processes around subduction zones and consequently understanding the risks of earthquakes and tsunamis."
"This award, our fourth Queen's Award, reflects the commitment of our workforce, both here at our headquarters in Hampshire and at our international locations, in solving our clients' most important underwater challenges. It has added significance this year, as we celebrate our 50th year in business."
Dr. Paul Hatchell, Shell research geophysicist (retired), said: "Sonardyne's seafloor deformation monitoring technology was a complete game-changer for helping Shell to gain insight into their offshore reservoirs, located in very deep water, where direct access to the seafloor by people is obviously not practical."
"I worked closely with the Sonardyne team on this application from the very beginning. This award is highly deserved recognition of their dedication to technological innovation throughout our 15-year journey together and I am thoroughly delighted with today's announcement."
Dr. C. David Chadwell from Scripps stated: "Congratulations to Sonardyne on the award. By applying their decades-long experience in innovative engineering and quality production, Sonardyne has expanded geodetic monitoring of the seabed beyond that of a couple of research groups to a much wider international scientific community ready to tackle the offshore problems associated with subduction zone earthquakes and their tsunami hazards."