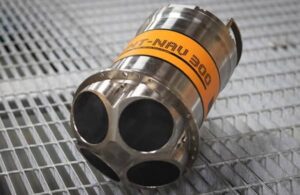 Sonardyne has released a new high-altitude variant of its SPRINT-Nav hybrid navigation system for unmanned surface vessels (USVs) and unmanned underwater vehicles (UUVs). The new model increases the altitude at which vehicles can work without an external position reference, without compromising accuracy.
SPRINT-Nav tightly integrates a Sonardyne SPRINT inertial navigation system (INS), Syrinx Doppler velocity log (DVL) and a highly accurate pressure sensor into a single high-performance solution that provides navigation and optional acoustic Doppler current profile (ADCP) functionality. The new high altitude variant operates at 400 kHz, achieving reliable bottom lock at up to 230 m altitude above the seabed, providing USVs with a highly accurate and robust navigation source. This capability makes it ideal for station-keeping applications in GNSS-denied or interference-heavy coastal survey environments. It also allows autonomous underwater vehicles (AUVs) and remotely operated vehicles (ROVs) to perform inspections and surveys at even higher altitudes than previously possible.
The instrument's optional ADCP capability has also been extended to 120 m, enhancing oceanographic data gathering and general operational capability. This ADCP capability is highly beneficial in highly dynamic environments and where robotic vehicles are being deployed from a USV and robust current profile data is required.
The new SPRINT-Nav high altitude variant has already been provided to a number of customers, including as part of a package of Sonardyne technologies being installed on the first wave of Ocean Infinity's new Armada fleet of robotic vessels.
The 400 kHz capability included with the SPRINT-Nav is also available as a standalone 400 kHz variant of Sonardyne's Syrinx DVL, which also comes with optional ADCP functionality.
Malik Chibah, Engineering Director at Sonardyne, commented: "Our new 400 kHz SPRINT-Nav high altitude variant provides the optimal performance blend, with comparable accuracy but 30% greater altitude to our 600 kHz standard SPRINT-Nav."
"With higher altitude performance, this new variant of SPRINT-Nav allows USVs to operate in a wider range of maritime environments. UUVs can also operate at higher altitudes above the seabed, across a wide range of operational scenarios in the defence, energy and science sectors. This comes without the loss of accuracy expected of instruments offering the equivalent altitude. For example, you can increase your multibeam coverage rates or also reduce navigation drift during descent and ascent."