Meteksan Defense, a leading developer of state-of-the-art components, radar and communication technologies for the defense and security industries, as well as armed Unmanned Surface Vehicles (USVs) for tactical maritime missions, has partnered with Unmanned Systems Technology ("UST") to demonstrate their expertise in this field. The 'Silver' profile highlights how their products can be used for command and control, ISR (intelligence, surveillance and reconnaissance), navigation and positioning, and a variety of other applications.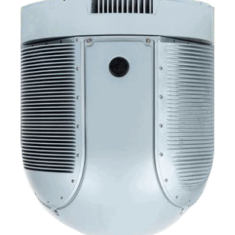 MILSAR is a compact multimode surveillance radar designed to be easily integrated into both rotary and fixed-wing UAV platforms, featuring the same mechanical interfaces as a standard 15" EO/IR sensor turret. It can detect and track even small targets moving at slow or fast speeds, with the ability to operate under adverse weather and low-visibility conditions.
The versatile SAR system is ideal for high-resolution mapping and imaging in both land and maritime environments, and also includes Ground Moving Target Indication (GMTI) modes for enhanced tracking and detection. Optional Coherent Change Detection capabilities allow differences over time to be highlighted, providing situation awareness and understanding of activities in a selected area.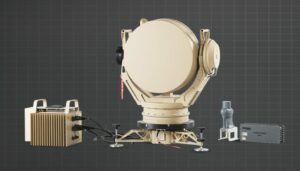 OKIS is a Ka-band radar-based system for automating UAV takeoff and landing. It provides reliable operation even under adverse conditions such as signal jamming, GPS-denied environments and harsh weather.
OKIS consists of two components – a compact, lightweight transponder and antenna that can be installed on a wide range of UAVs without significantly impacting the payload capacity, and an interrogating radar installed near the runway that measures the aircraft's range, bearing and elevation and transmits this 3D information to the ground control station.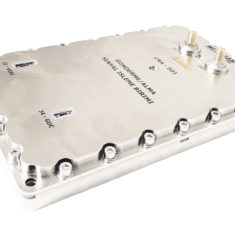 The CRA (C-Band Radar Altimeter) is a linear frequency modulation altimeter that provides high-precision altitude data for UAVs at speeds of up to 300 m/s. The lightweight, compact system can measure accurate altitude up to either 2500 ft (750 m) or 5000 ft (1500 m) and as low as 2m, making it ideal for sea-skimming flights.
The CRA features a built-in test capability and has been tested to MIL-STD-461G and MIL-STD-810G standards.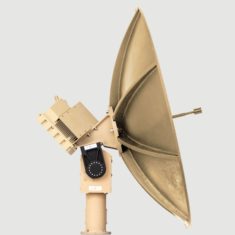 Meteksan's tactical data link for UAVs is a line-of-sight (LOS) air-to-air and air-to-ground real-time communications system that transmits command and control and high-resolution video data at ranges of up to 200 km. The bidirectional system features H.264 compression and can transmit from the drone to the ground control station and vice versa.
The system consists of an Air Data Terminal (ADT) and a Ground Data Terminal (GDT). The reflector antenna has been constructed from carbon fiber to significantly lower weight, while the UAV antenna has been specially designed for effective resistance against airborne environmental conditions.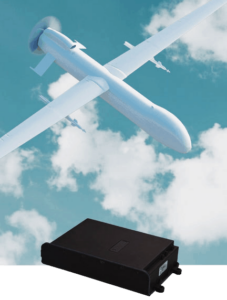 The UAV Flight Computer is based around a powerful processor with interfaces for mechanical flight control and sensor data acquisition. The low-SWaP system can interface with multiple UAV payloads, and features on-board voltage, current and temperature sensors as well as multiple analog-to-digital converters.
The UAV flight control system has been designed to meet MIL-STD-810F, MIL-STD-461E and MIL-STD-464A/E standards.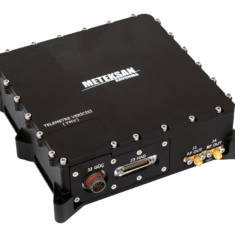 The TMV is a multi-mode S-band telemetry transmitter designed for mission-critical UAV applications. The highly flexible system features a variety of software-defined options, with six RF outputs that can be configured as independent or dual with variable power up to 20W and data rates of up to 20 Mbps.
Optional capabilities for enhanced reliability and improved link margin include ARTM Tier 0, 1 and 2 modulation schemes and an IRIG 106-15 Compliant LDPC forward error correction mode.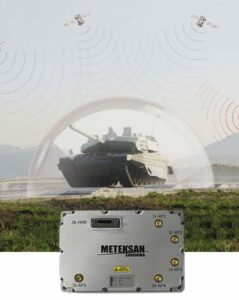 The anti-spoofing and anti-jamming GNSS receiver is ideal for providing continued reliable operation in military and tactical environments. Featuring a state-of-the-art four-channel phased array antenna, it provides secure, high-precision location and velocity information.
The low-SWaP system features a modular system design that is easily integrated into a wide range of UAVs, and is MIL-STD-810 and MIL-STD-461 compliant.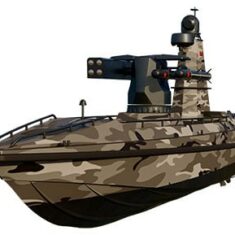 ULAQ is an advanced USV built from state-of-the-art composite materials and designed for a wide range of tactical maritime missions such as ISR (intelligence, surveillance and reconnaissance), surface and asymmetric warfare, naval escort and infrastructure protection.
The vessel, with a top speed of 65 km/h and an operational range of 400 km, is equipped with four laser-guided 70 mm missiles and two long-range anti-armour missiles. It also features a variety of communication and intelligence options, including jamming and electronic warfare systems, to suit diverse operational needs.
ULAQ can be launched from land vehicles and docks as well as naval platforms such as aircraft carriers and frigates, and can be remotely controlled or programmed for autonomous operations.
To find out more about Meteksan Defense and their subsystems for UAVs and unmanned vehicles, and their tactical USVs, please visit their profile page:
https://www.unmannedsystemstechnology.com/company/meteksan-defense/