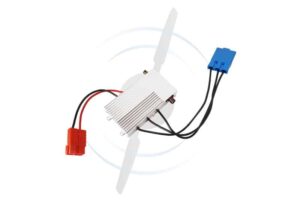 Sky Power has developed a new starter generator control system that can be used with the company's family of UAV (unmanned aerial vehicle) engines as well as third-party engines. The SGC 352 is compatible with both fuel-injection engines as well as those with carburetors.
The SGC 352 can be used to control the starting of engines as well as the charging of UAV batteries during generator mode. During the latter operation, it can manage phase current control, battery current and speed control.
The new control system has already been successfully used in the field with Sky Power's SP-210 and SP-275 engines, including for some heavy fuel (HF) applications. Further trials with other Sky Power engines are planned. The company's new hybrid engine, based on the SP-55, will also be equipped with the new control system.
Karsten Schudt, Managing Director of Sky Power, commented: "Our new SGC 352 Starter Generator Control is equipped with an advanced brushless motor speed control. Communication with the engine is via hall effect sensors. Furthermore, the SGC 352 starter generator control unit is lighter than comparable systems on the market."