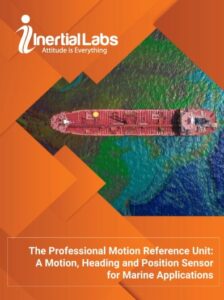 Inertial Labs, a developer of advanced inertial sensing technologies, has released a case study outlining how inertial motion reference units (MRUs) can be used for marine operations such as bathymetric or hydrographic surveys. These surveys, which usually involve measuring the physical and chemical features of a body of water, or generating a 3D map of an underwater landscape, are often performed by unmanned underwater vehicles (UUVs) and unmanned surface vessels (USVs).
Download the full case study here
The accuracy of MRUs can be enhanced by the use of other external sensors, such as an external GNSS receiver, a stand-alone magnetic compass (SAMC), the vessel's gyrocompass, or a Doppler Velocity Log (DVL). The latter three are particularly useful for supplying important heading corrections in GPS-denied environments, as they do not rely on satellite line of sight (LoS).
Inertial Labs' MRU-PD can receive data from a wide range of sensors used throughout the industry. It also offers full compatibility with both single and multi-beam echosounders (SBES/MBES). Unlike a SBES, an MBES utilizes multiple acoustic transducers arranged radially to increase the swath width when performing surveys, allowing more data to be collected in a single pass. The MRU-PD is also designed to easily interface with the popular post-processing software packages such as HYPACK, Qinsy and Qimera.
Inertial Labs' MRU-PD motion reference units output:
Pitch and roll
Heave, sway and surge
Accelerations (X, Y and Z axes)
Angular rates (about X, Y,and Z axes)
Heading, velocity and positions
Featuring heave accuracy of 0.05 meters and pitch and roll accuracy of 0.02 degrees, the MRU-PD has been recognised by the American Bureau of Shipping as suitable for use with Dynamic Positioning Systems (DPS-1, DPS-2 and DPS-3).
To find out more about the use of inertial motion reference units for marine surveys, download the full case study here.