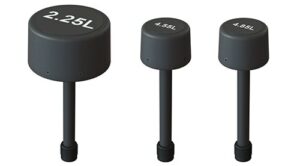 Southwest Antennas have announced an updated line of rugged cloverleaf omni-directional antennas designed for unmanned systems applications and multi-antenna MIMO / MANET radio applications.
Suited to air-to-ground RF links or use in multi-antenna configurations, where multiple antennas of opposite polarization are used to increase isolation between co-located antennas, the newly updated line of cloverleaf omni antennas are available in both left hand and right hand circular polarization with the following three frequency options:
2.2 – 2.3 GHz
4.4 – 4.7 GHz
4.7 – 5.0 GHz
Ruggedized and sealed against water intrusion and rated for immersion in 20 meters of water once fully mated, the operating frequency range of these antennas makes them well matched for used within federal law enforcement audio and video systems, surveillance / security, and unmanned systems applications.
Features include:
Omni-directional radiating pattern that is either right hand (RHCP) or left hand circularly polarized (LHCP)
Over 40 dB of isolation between two co-located antennas with opposite polarizations – a significant improvement over two co-located vertical or opposite slant polarized antennas.