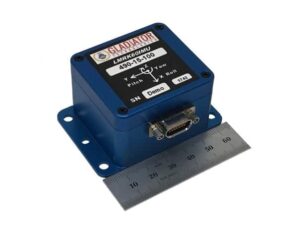 Gladiator Technologies has announced that it has updated its MEMS IMU (Inertial Measurement Unit) product line with VELOX Processing technology, which employs advanced rapid sampling and signal processing techniques to output data at high speed with minimal phase lag. VELOX enables system designers to replace legacy analog Inertial Systems and Rate Sensors with high speed digital inertial systems and sensors.
"VELOX Processing encompasses our unique high speed, low latency technology and creates technical advantages for system designers, especially those focused on stabilization," commented Eric Yates, Business Development Manager at Gladiator Technologies.
All Gladiator Technologies SX Series digital IMUs, Gyroscopes and INS/GPS products incorporate VELOX Processing with a range of high-speed outputs depending on the model selected. Because high output speeds require external sync inputs for system coordination, the SX Series product design includes dedicated external sync connector pins and product firmware which allows customers to select the output speed and baud rate best suited to the application.
The VELOX Processing technology enhancements include:
Data Outputs up to 10 kHz
Message Timing as low as 185µsec
Minimal Phase Lag
Up to 6 Mbaud
Up to 350 Hz Bandwidth
"Customer interest in high speed output and near analog response encouraged us to consider non-traditional processing methods," stated Lee Dunbar, Gladiator Technologies' Chief Software Architect. "The result of this effort is VELOX Processing for applications requiring real-time, high resolution inertial data."
Gladiator Technologies will be exhibiting at the AUVSI Xponential 2019 trade show in Chicago.