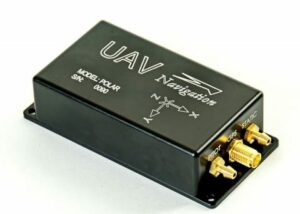 UAV Navigation, a provider of flight control solutions for UAVs, has released a detailed technical article reporting on the results of tests which were carried out, comparing the performance of their POLAR ADAHRS-INS unit against a high precision reference system. The tests took place in March (fixed-wing platform, >400 kg) and June (rotary-wing platform, >600 kg) of 2018.
Read the full article (opens in a new window on the UAV Navigation website).
The test flights setup consisted of a POLAR unit fixed rigidly along with a tactical-grade Fiber Optic Gyroscope (FOG) based AHRS and INS solution which was used as the reference system. Several test flights were carried out, performing a variety of manoeuvres with differing dynamics. In order to test the effect of a GNSS degraded environment on the precision of the ADAHRS unit, the GNSS signal reception was remotely disabled during the second half of every test flight.
To learn more about the tests and the results, read the full article.
The POLAR unit comprises an Inertial Measurement Unit (IMU), an Air Data System (ADS) and a precision, multi-constellation GNSS. The POLAR provides the heading, attitude and velocity information required by the twin redundant Flight Control CPUs in UAV Navigation's VECTOR autopilot, in order to provide control in all flight modes and to execute the required flight plan.
POLAR is the only high-performance ADAHRS unit to offer a quaternion-based, drift-compensated sensor fusion algorithm operating with full 32-bit floating point precision at update rates as high as 500 Hz. A quaternion-based solution ensures reliable and efficient operation without the traditional problems associated with gimbal-lock. The high update rates ensure the availability of system states with minimal latency, a crucial requirement for high-performance control systems.