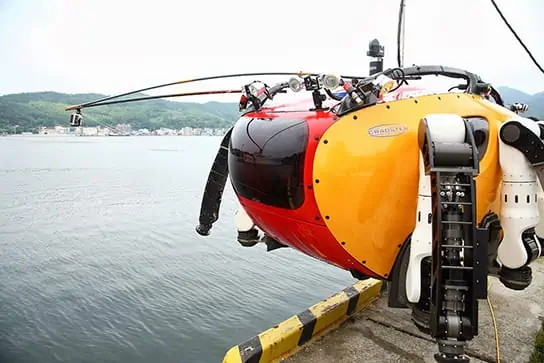 Sonardyne Asia Pte. Ltd. has supplied underwater communications equipment to the Korean Research Institute of Ships and Ocean Engineering (KRISO). The equipment enables video to be transmitted through the water and unmanned vehicles to be controlled without a tethered link to the surface.
The BlueComm 100-series optical modems will be used to stream high-definition imagery from cameras installed on seafloor sensor platforms and command 'Crabster,' an autonomous walking and flying crab-like robot being developed by KRISO's ocean systems engineering department.
Transferring data using subsea modems provides a reliable alternative to using cables underwater, which can be expensive to install and vulnerable to damage. However, unlike conventional acoustic-based devices that use pressure waves to send and receive relatively small packets of data at low bandwidths, Sonardyne's BlueComm uses rapidly modulated light emitting diodes (LEDs) and high power lasers to quickly deliver very high volumes of data.
Typically operating in the 450 nanometer Blue Light region of the spectrum, data rates of up to 500 megabits per second are achievable making the technology suitable for a wide range of underwater applications that require a high bandwidth, low latency, bi-directional communications link. These include harvesting data from seabed landers using AUVs, remote video monitoring of science operations and piloting unmanned vehicles without the need for a control umbilical.
When deploying battery-powered subsea instruments and vehicles, operating life is always a major consideration for users. BlueComm's method of optical data transmission is highly efficient, enabling for example, one gigabyte of data to be transmitted with the energy contained within a single lithium 'D' sized cell over distances greater than 150 metres.
The BlueComm modem family is currently made up of three variants and to support its work, KRISO has selected the BlueComm 100 model. Featuring Ethernet connectivity and a deep depth rating, the design is optimised to offer a good balance between data rate and range in all conditions, including high ambient light.
Commenting on the contract, Anthony Gleeson, Vice President of Sonardyne in Singapore said, "Now that it's possible to send and receive data underwater at speeds comparable to domestic broadband, it's exciting to consider the huge range of potential applications for BlueComm." He added, "KRISO are the first institute in our region to invest in BlueComm and we are delighted that this unique technology will help to advance their pioneering ocean research."