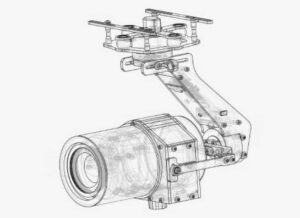 HD Air Studio has released the following case study detailing the creation of a custom weatherproof gimbal for power line inspection with a fixed-wing UAV (unmanned aerial vehicle).
The client
KVS Technologies provides power companies with a safe and efficient way to monitor the conditions of their overhead power lines. The company's AI-driven software enables drones to carry out autonomous inspections for customers.
The project
KVS Technologies needed a gimbal that would fit the Sony UMC-R10C camera, a highly specialized model for which there existed no off-the-shelf gimbals on the market. Given the fact that inspections of power grids take place under all sorts of weather conditions, KVS Technologies also needed a camera stabilizer that was not only mechanically resilient but also weather-proof.
How HD Air Studio undertook the challenge
HD Air Studio developed a custom gimbal design that that seamlessly fit mechanically and electronically with both the Sony UMC-R10C camera and the particular drone platform used by KVS Technologies.
A weather sealing solution was then designed for the entire gimbal, protecting it from water, dust and humidity.
The entire project was engineered as a ready-to-use solution, and delivered within a rapid timeframe.
To meet KVS Technologies' challenging requirements, HD Air Studio had to select suitable components that were rigid yet lightweight. The gimbal was therefore constructed from carbon fibre and light aluminium alloys, achieving a high strength-to-weight ratio. Weather-proofing was achieved using liquid sealing, as this option was deemed to be the most flexible and robust. Production technologies applied in the creation of the gimbal included CNC machining, FDM and SLA 3D printing.
The Sony UMC-R10C gimbal developed by HD Air offers vast integration possibilities to the client. It features unlimited continuous rotation in the pan axis, as well as a built-in slipring connector for serial communication and power supply.
Results and further development
A calibrated and tuned prototype of the Sony UMC-R10C gimbal was initially delivered. Once this first unit was tested, some additional improvements were applied to the gimbal construction. These included a waterproof enclosure for the camera itself, as well as a custom connector to provide communication between the camera and computer.
To find out more about HD Air Studio's custom drone camera gimbal capabilities, visit their website.