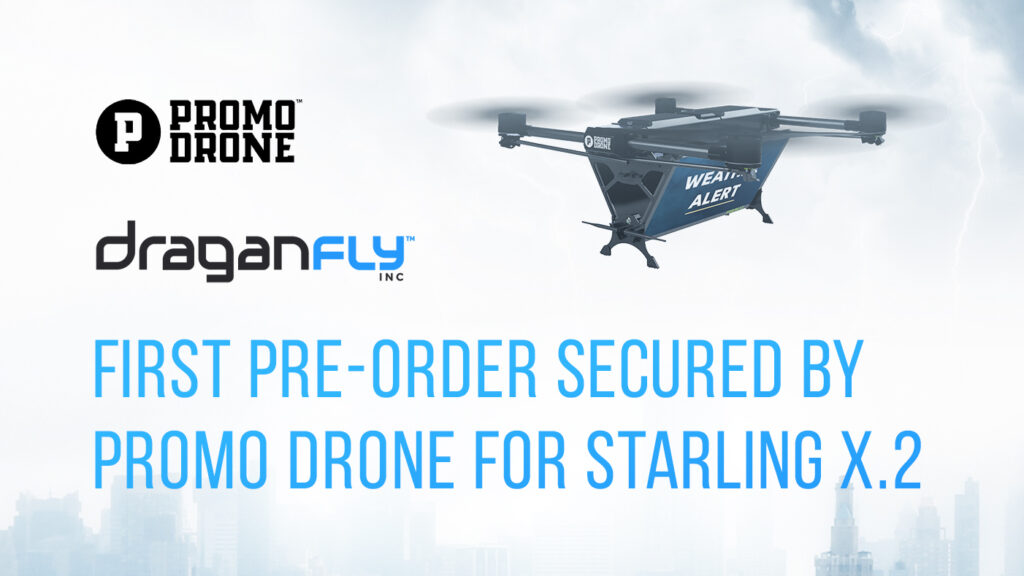 Initial orders have been received for the Starling X.2, the rapid-response messaging and aerial advertising platform developed in collaboration between Promo Drone and Draganfly.
The Starling X.2 incorporates Draganfly's versatile, and easy-to-assemble Commander 3 XL airframe with Promo Drone's video display technology featuring ultra-bright LED display panels to communicate and promote important information in various sectors, including public safety, emergency response, outdoor events, advertising, marketing, and fan-centric experiences.
The Starling X.2 was designed to improve the capabilities of first responders in critical situations and to enhance monetization and entrepreneurial opportunities for drone operators. By providing a highly visible aerial messaging platform, the drone enhances situational awareness during natural disasters, rallies, search and rescue operations, and other essential notifications. This contributes significantly to awareness, public preparedness and responsiveness.
"This is an exciting time for Promo Drone," said Jamar Williams, Founder and CEO of Promo Drone. "Through our collaboration with Draganfly, we've created a revolutionary system that reaches new horizons and creates new pathways for attracting attention and engaging any audience. Whether it's broadcasting critical updates during natural disasters, issuing community alerts, conducting search and rescue missions, or elevating your brand with captivating aerial campaigns, the Starling X.2 is set to redefine what's possible."
"It is always so exciting to see our customers meeting with success on the new products they allow us to help design and manufacture with them. The Starling X.2, whether applied to enhance advertising, amplify participation in events, or assist emergency and first responder communications, redefines how drone technology can be used for communication purposes," added Cameron Chell, President and CEO of Draganfly. "This drone is also an example of how an innovative partnership can drive technology to enhance communication and public awareness."
For those interested in securing the Starling X.2, early reservations made before October 31, 2023, will benefit from a 5% discount off the purchase price. The anticipated commercial release of the Starling X.2 is set for 2024.
Reserve the Starling X.2 here.