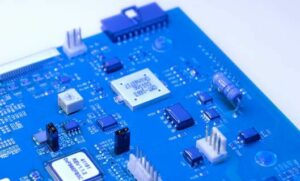 Dymax, one of the world's leading manufacturers of light-curing materials and equipment, has received NASA's prestigious MAPTIS material number 09841 for its unique Dymax Dual Cure 9771 light-curing protective coating, which was specially developed for use on critical circuit boards in rockets, satellites and spacecraft.
As a result, Dymax Dual Cure 9771 is now listed in the approved materials database used by NASA and its suppliers. By including it in this database, NASA has independently verified that Dymax Dual Cure 9771 meets ASTM E595, making it easier for customers looking for lower outgassing materials to find the product here.
NASA's ASTM E595 Low Outgassing Test Method is a screening method for determining the volatile content of materials. The test is conducted at 125°C in a vacuum of approximately 10-5 torr for 24 hours. Total mass loss (TML%) and condensed volatile matter (CVCM%) are measured. The CVCM value is of particular interest as it could indicate loss of current continuity or other effects due to possible unwanted material deposition.
In conjunction with the NASA Material Number, dispensing guidelines have been established to ensure a uniform film thickness of 50.8-101.6 µm (0.002-0.004″) is achieved. Dymax recommends conformal coating with a PVA Delta 6 Selective Coating/ Dispense System with an FCS300 Series Valve.
Dymax DualCure 9771 is a reworkable coating that cures with light and moisture. This ensures that the material is also fully crosslinked in the shadowed areas below the circuit board components. The innovative protective coating has an extremely low ion content, has a flammability rating of UL 94 V-0 and is certified to UL 746E. In addition, it is currently the only conformal coating on the market that meets the requirements of Mil-Std 883 Method 5011.