Dymax is a leading developer of UV and LED light-curable materials for manned and unmanned satellites, missiles, and spacecraft. UST is delighted to welcome Dymax on board as a supplier partner, and we will be highlighting their unique solutions and capabilities across our channels over the next 12 months.
We've just launched Dymax's UST supplier profile, which has been written and built by our team in collaboration with the company. The Silver profile showcases their rapid light-curing materials, which bond and protect PCBs (printed circuit boards), electronic subassemblies, and optical components in mission-critical aerospace, defense, and military applications.
Read on to find out about Dymax's adhesives, coatings, and maskants: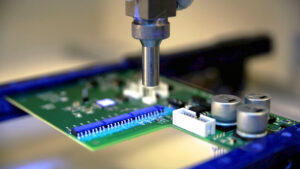 Dymax conformal coatings protect substrates and component surfaces from the severe conditions that PCBs can be exposed to. The solvent-free materials cure in seconds under UV/Visible or LED light, minimizing process time and maximizing manufacturing throughput, process efficiency, and cost savings.
Designed to provide enhanced shielding, the conformal coatings protect electronic PCBs and board-level components from moisture, dust, corrosion, and other challenging environments. Formulations with secondary heat-cure capability are available for applications where shadow areas exist.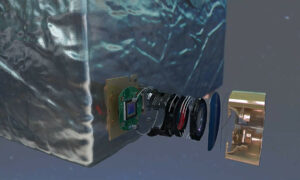 Dymax epoxy adhesives cure with UV/Visible light in seconds for rapid, precise assembly of optical components and camera modules. Bond lens barrels and holders, CCD or CMOS die, rigid PCBs, or use them for active alignment applications.
These moisture and thermal-cycle-resistant epoxies meet the stringent low-shrinkage and low-outgassing requirements for satellite and spacecraft avionics. Materials with a secondary heat-cure function are available to ensure a complete cure in PCB areas shadowed by light. Bondable substrates include LCP, PCB, PPS, FPC, and metallic surfaces.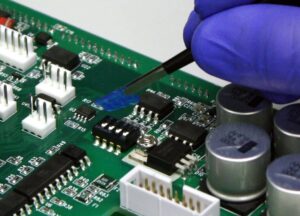 Dymax SpeedMask maskants solve a variety of PCB and electronics manufacturing challenges, including component protection during conformal coating operations. The materials can conform to complex geometries and cure rapidly upon exposure to UV/Visible light, so they can replace slow-curing, labor-intensive wax, tape, and lacquer masking methods. They are compatible with gold and copper pins and ideal for protecting keep-out areas during processing.
SpeedMask maskants can be dipped, sprayed, or screen printed in one layer, making them instantly production-ready. They are easily removed after proper cure via peeling, leaving a residue-free surface with no contamination. Additionally, they are a green, eco-friendly, solvent-free, one-component alternative to two-part solvent-based maskants.
To find out more about Dymax and their light-curable adhesives, coatings, and maskants, please visit their profile page: https://www.unmannedsystemstechnology.com/company/dymax/